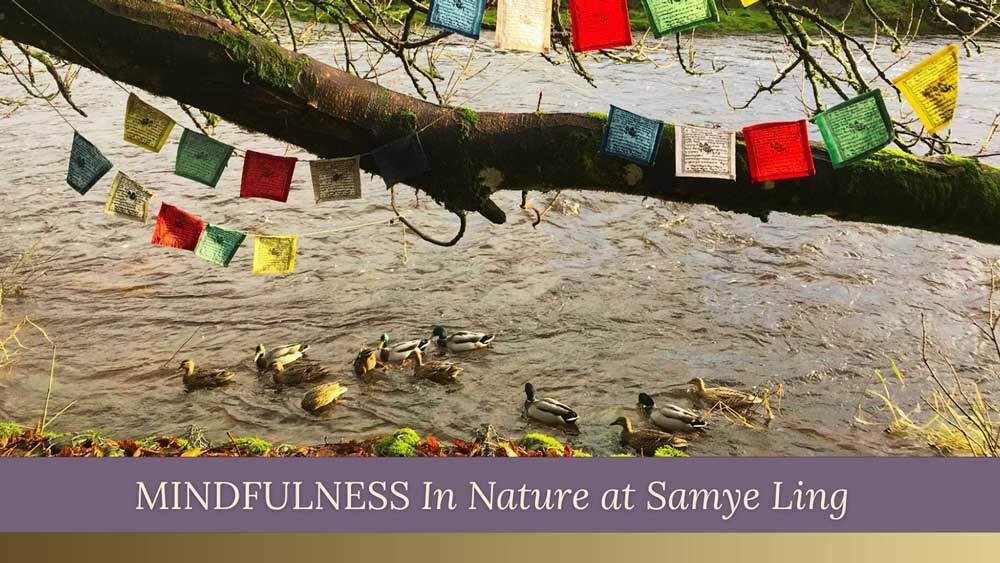 Continue Level 1 Mindfulness – Nature Theme
Continue Mindfulness in Nature Level 1
We will continue our journey into Mindfulness with our Level 1 Course with our Nature theme.
To join this course you will need to have completed our foundation module 1 – either one weekend at Samye Ling or 4 evening sessions online or an 8 week Mindfulness Based Living Course. 
28-30 October 2022, 20-22 January 2023 and 24-26 March 2023
Please book your accommodation and meals for the weekend directly with Samye Ling by emailing bookings@samyeling.org. They will need to know the dates that you would like to stay, what room you would like (please click here to see the room types and prices), your name, and the name of the second person if you are booking a twin room, your address, phone number and preferred email address for the booking. No room bookings can currently be made via the Samye Ling website.
Immerse yourself in the beautiful natural surroundings of Samye Ling in Dumfriesshire, Scotland, where we will continue the level 1 Mindfulness Course.  Many of the practices will be by the nearby river, under the trees and around the centre (weather permitting). We will also include some optional mindful movement with Qigong.
If you have already completed a foundation Mindfulness weekend you can then continue and join the further three weekends of our Mindfulness Level One: Being Present course with Jacky and Rosina, at Samye Ling.
Tutor: Jacky Seery and Rosina Morrison
Dates: 28-30 October 2022, 20-22 January 2023 and 24-26 March 2023
Price: Weekends 2 – 4 £450.00 = 6 monthly payments x £75.00
Times: 19.00-20.30pm on the Friday evening, 8.00am to 20.00pm on the Saturday and 8.00am to 15.00pm on Sunday.
Booking: To book this course please contact info@mindfulnessassociation.net. These can be paid for in six monthly instalments of £75.00.
Once booked, please then contact bookings@samyeling.org to book your meals and accommodation.
If you are making up for missed weekends, please email info@mindfulnessassociation.net to sign up.