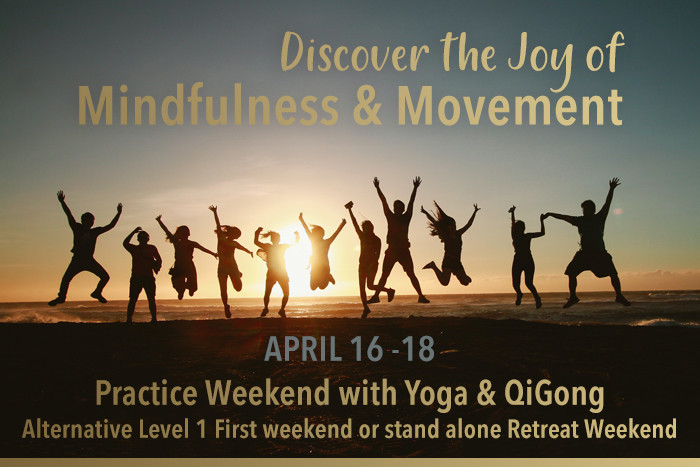 Mindfulness and Movement Online Weekend with Yoga and QiGong
Join Heather and Jacky on this practice weekend and learn how to integrate mindfulness and mindful movement as a basis for your practice.  No experience is needed and the weekend course is perfect for beginners and experienced mindfulness practitioners alike.
The weekend will include gentle mindful movement with drawn fromYoga, Qi Gong and Tai Chi.  You will learn short, easy to follow movements and sequences as we go on a journey bringing mindfulness to every move.
In our Mindfulness Training – awareness of the body helps us to remain present and can reveal a multitude of emotions that we are experiencing or even hiding. This new awareness provides us with the opportunity to give some space and kindness to any pain or tight sensations we are experiencing.
The movements will be integrated into our foundation mindfulness practices which form the first weekend of our Mindfulness Level One Course. The weekend can be attended in isolation.
This unique weekend is an opportunity to complete the foundation practice weekend of our Level 1: Being Present Mindfulness Training.  It can be taken in isolation as a weekend retreat, a refresher for those already with a Mindfulness practice or is a perfect way to begin your Mindfulness journey.  After the first weekend you can choose to continue to complete the Mindfulness Level 1 Being Present course over three further weekends.
We have themed this weekend to focus on the practice of mindful movement. Heather, trained in Yoga,  will guide some gentle practices to open and stretch your body. Jacky, trained in QiGong and Tai Chi, will share some gentle sequences to create movement flow in our bodies. All the practices are suitable for beginners.
If you are a Mindfulness teacher you might like to attend this weekend towards your CPD requirement.
Tutor: Heather Regan-Addis and Jacky Seery
Dates: 16 – 18 April 2021
If you wish to continue to complete our Level 1 Mindfulness Training the next three online weekends are on 8-9 May, 2-4 July and 3-5 September 2021. Alternatively you can continue online on a Wednesday evening starting 7th April or join another course at a later date. Please write to to info@mindfulnessassociation.net if you wish to continue.
Price: £150.00
Times: 19.00-20.30pm on Friday evening and 10.00am-17.00pm on Saturday and Sunday.
Booking info: To book this practice weekend please click the booking link. You will be invited to book the following three weekends, if you wish to, after attending the first weekend. These can be paid for in six monthly instalments of £75.00
Location:  This session will be held online.
If you are making up for missed weekends, please email info@mindfulnessassociation.net to sign up.
To book, contact info@mindfulnessassociation.net for the booking link.