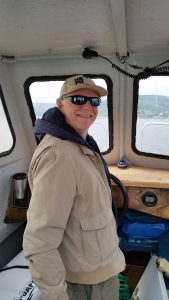 The very first Mindfulness course Rob Nairn taught and which is the foundation of our Mindfulness Association Level 1 training began at Samye Ling 10 years ago on 26 May 2008! Choden was one of the tutors and I was one of the participants. The course was by invitation only, just for experienced practitioners (I was included as I was training in Mindfulness at Bangor University) and the course included an element of teacher training, too. It was well attended and I clearly remember sitting in small groups in the temple at Samye Ling guiding each other in practice. I felt very much a beginner and was also at that time finishing my first year of my Masters in Mindfulness Based Approached at Bangor. It was such an exciting time and I was so in awe of Rob, Choden and the other tutors.
The course was challenging and it was a tough time in my life, with the sudden death of my half brother and the dementia and then death of my grandmother. Around that time, I organised a Compassion retreat for Rob at a local retreat centre in Derbyshire, as part of our local dharma practice group, which included an all night Chenrezig practice.
This was where Rob first met Charlie Morley which was a starting point in another amazing journey. Rob was quite impressed by my organisation skills and then when I talked to him about my training at Bangor (I was doing teacher training there in my second year) he asked me to join the teaching team for the year end retreat of that first mindfulness course on Holy Isle in the summer of 2009.
I jumped at the chance, more than a dream come true, as I would never have had the audacity to dream I would teach alongside or even assist people like Rob and Choden. I was so nervous and overwhelmed and the groups were quite challenging for me as a newbie facilitating groups of such experienced long term Samye Ling practitioners. I remember Annick being really supportive in one rather rebellious tutor group. I was also elated.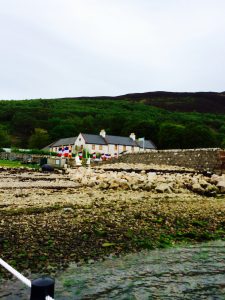 At this retreat I sat in the Peace Hall on Holy Isle facilitating one tutor group, with Rob listening in to see how I did. Well enough, apparently. He was kind enough to say that I was a natural – rare praise from Rob, which I will cherish until I die and which still brings tears to my eyes. I remember Fay and Kristine crocheting during Rob's teachings and Kathy White-Webster doing a hilarious skit demonstrating how not to teach Mindfulness.
I also remember Choden and I leading a session on enquiry in the dining room, in which we roll played enquiry. We then got participants into pairs to enquire into each other, after giving them each a script to follow when being enquired into listing thoughts, emotions and sensations that the enquirers had to draw out of them. This gave rise to much hilarity and after that we relied on actual experiences in enquiry training rather than role play!
I remember that Lama Yeshe Rinpoche was on Holy Isle for some of our time there. He supported us right from the start and advised us early on to include kindness and compassion in our training from the first session. Akong Rinpoche also supported our work and especially the setting up of a separate organisation from Samye Ling to take responsibility for delivering mindfulness training.
At the retreat I remember clearly sitting on the veranda benches outside the Peace Hall with Vin and Norton discussing setting up an organisation, which eventually became the MA. They were keen on me taking on the admin and organising and I was quite resistant, wishing to teach rather than take on the admin. I was, after all, a Director of a successful Patent Attorney practice and had a secretary for doing admin!
However, I shortly gave up my job to devote my time to the day to day running of what became the legal entity of the MA in May 2010.
One of the very special aspects of the MA is how there are still many from that first course who are still involved with the MA. Our Directors Norton, Choden and myself, our tutors Vin, Annick, Kathy, Fay and Kristine, were all on that first course. We soon gathered more tutors, mainly from the early MSc cohorts and we have all been working together for years, like a family. When we annually review the aspirations of our tutors, many say that their work for the MA is the highlight of their teaching year.
There have been many ups and some downs along the way. And the rest as they say is history!
Our plan is to have a special 10 year celebration in May 2020! I hope you will join us for that.
In the meantime our members are getting together for our joyful club weekend in July. Why not join us in this celebration of the joy that living mindfully brings to our lives.
The Joyful Club Weekend
Or if you haven't already, why not begin your own journey with us?
Start Your Training Now
Kind Wishes
Heather