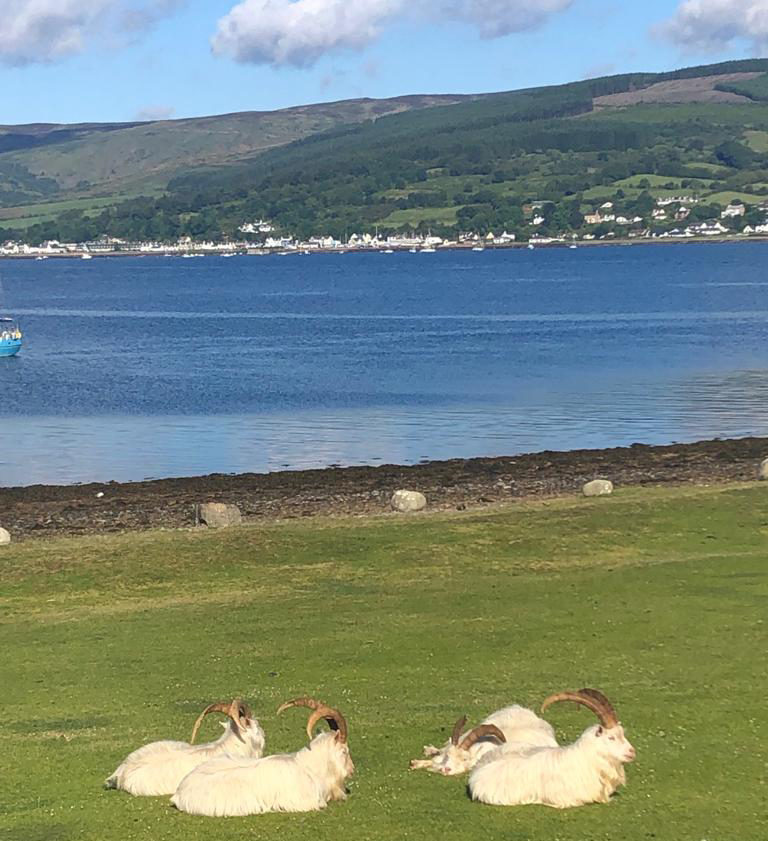 So I find myself back on Holy Isle off Arran in Scotland for a week long retreat with the second and third years of the University of Aberdeen's MSc in Studies in Mindfulness. The Mindfulness Association partners with the University to deliver the experiential mindfulness, compassion and insight courses, along with some teacher training. The students explore the relevance of mindfulness in their professional context. These might include physical or mental health or wellbeing, but also business, sport, the arts and all levels and types of education – almost any aspect of life or work is relevant!
We all, from these different backgrounds, come together to practice and share our experiences with each other for our mutual benefit. If you have a first degree (or equivalent professional experience) and a context within which to apply mindfulness, why not come study with us!
This week the second years have been doing some mindfulness teacher training. Then they completed the insight training, which they began last May on their first year Holy Isle retreat. This week we explored pride and then ignorance, applying the antidote of equanimity, and then simply being with what was emerging in our experience.
Earlier in the week the second years shared their ideas for their upcoming dissertation. Many have just completed a small pilot study in their fields as part of the MSc. These included exploring mindfulness with people who are recovering from a stroke, with women struggling psychologically from symptoms of menopause, with optometrists, with young women. They also included exploring the effects of mindfulness practice on sustainable eating and on wider environmental and social change. The scope of their work and the potential to benefit the world is phenomenal.
The third years are working on their dissertations and are having a writing retreat. They are practicing in the morning and studying and writing in the afternoon, ably supported by our colleague Graeme Nixon from the University. All our third years, by the end of this retreat report having a clear pathway ahead for completing their dissertation. A variety of subjects are being covered, including the effects of mindfulness on online behaviour, on emotion regulation as evidenced by fmri brain scans, on mobile phone usage and the power of mindful intention.
This morning we sat outside in the sun on the decking by the sea (see pic) expanding our awareness to the space around and in front of us within which external objects exist. Then we expanded further to include the space inside within which thoughts and emotions arise. The culmination of our insight practice!
For more details of the insight curriculum from the insight course, you can read our recently published book 'From Mindfulness to Insight' . Our students who have read it are loving it (which is a big relief). We are also doing some insight workshops with Rob Nairn in London, Scarborough and Samye Ling in July. So come practice with us!
I love being on Holy Isle, it is stunningly beautiful and unerringly tranquil. I love being here and practicing mindfulness with a group of such committed and courageous practitioners who have – each one – undergone a transformation towards more self-awareness and less suffering. What I love best is their passion to make a difference – to go back to their communities and share the gift of compassion based mindfulness so that the transformation continues.
In order to face the growing climate and extinction crisis and the growing social injustice in our society we need an evolution of human consciousness. Compassion based mindfulness training can do this. I have experienced it myself and have seen it happen in countless others. I often talk about this work sending ripples out to benefit the wider world. One of our students today said it was more than ripples, but waves! I think we need a transformational tsunami – hopefully the work we are doing here on Holy Isle can be a part of that.
It is a constant privilege to be part of these transformations and I am truly grateful for the opportunity.
Sending kind wishes to you all from Holy Isle.
Heather
Heather is leading the first course in our series of Mindfulness training – Level 1 Mindfulness Course – Being Present – 25-27 October 2019. The weekend can be attended as the beginning of a four weekend course, or taken in isolation as a taster or a retreat.
Start your own transformational mindfulness journey with Heather and come practice with us!