Within the last month I've had the pleasure of teaching on two "Insight" courses with Heather Regan-Addis and Choden, both at Samye Ling.  These have been as part of the second year of the Aberdeen University MSc in Mindfulness, and the non-academic "Level 3: Seeing Deeply course", the second of which was run as a five-day retreat. This opportunity provided me with some reflections on insight.
For me, this is a continuation of a journey that I started around 14 years ago with Rob Nairn, when I first attended a retreat with him on "Observing the Observer".  With input from Rob, Choden and Heather have been immersed in writing a book, from Mindfulness to Insight, on this over the last couple of years [to be published by Shambhala Books this spring]. In the course of this they have been developing Rob's initial ideas and practices about Insight training. 
My experience of the practices that we do on this course is that they can be very challenging, but also highly rewarding.  Although I might be "sitting at the front" during the courses I am still exploring and uncovering different layers to the practices. One might say, I am having insights about them – although as is the nature of this training, the insights that arise aren't always what we might expect! 
"Insight" isn't necessarily the best name for this training, as this word may mean different things to different people.  Because of this, I prefer the phrase "Seeing Deeply", which describes more accurately what we're trying "to do" – or, more accurately, what we're trying to set the conditions for.  Indeed, within our practice we're trying to simply do less and less, which really isn't as simple as it might sound!  Also, this doesn't generally unfold the way we might expect it to. It can be a challenging journey, as most people experience, so it is important is that we've done some training in self-compassion beforehand. 
People often ask me how the MSc weekends compare to the "normal" course weekends.  Essentially, there is not a major difference between them, although as you might expect the MSc weekends are a bit more intense than the regular weekends, as there is more of an academic aspect.  What I have experienced, however, was a noticeable difference in learning about (and teaching) Insight over the longer 5-day retreat compared to the shorter weekend courses.  The longer time allowed people to start to really "get their teeth" into the practices and, for me as a facilitator, it allowed me to lead the practices in an increasingly deeper and more embodied way.  I think this was echoed by the people who attended the retreat, as is shown in some of their comments which I'll post below. 
My experience is that the Insight training can be highly rewarding and liberating.  With Choden and Heather's upcoming book, it's likely that there will be increased interest in our "Level 3: Seeing Deeply"" courses, and that with this we are offering a level, and indeed depth, of training that is quite unique to the Mindfulness Association.  I would definitely recommend this course to anyone who has the opportunity to attend it.
Some of the feedback from the Insight retreat (all people gave permission for their comments to be used):
This is what I've been searching for ever since I started my mindfulness journey!
It brings all the strands of Mindfulness & Compassion together and after 5/6 years of practice, I now begin to understand!
Felt as thought the final piece of the jigsaw puzzle has been put in place.
Some insights gained!
This was even better than the compassion course and I gave that a 10! It was really challenging but so interesting to experience, in a very supported way, some difficult habits and emotions.  It has been very life changing in a hugely positive way.
The pinnacle of several years of training and is potentially massively liberating and life changing. 
I felt safely held and supported during my exploration into often challenging areas of my mind.
Potentially life changing.
 You can find details of the upcoming "Level 3: Seeing Deeply" courses on our website.
There is also the opportunity for qualified mindfulness teachers who are trained in MBSR, MBCT and Breathworks, to attend the Access to Insight Retreat. This allows them to make the transition into 'Insight' Level 3: Seeing Deeply' training without having to attend Level 1 and Level 2 courses.
'From Mindfulness to Insight' is an exciting new book written by Rob Nairn, Choden and Heather Regan-Addis.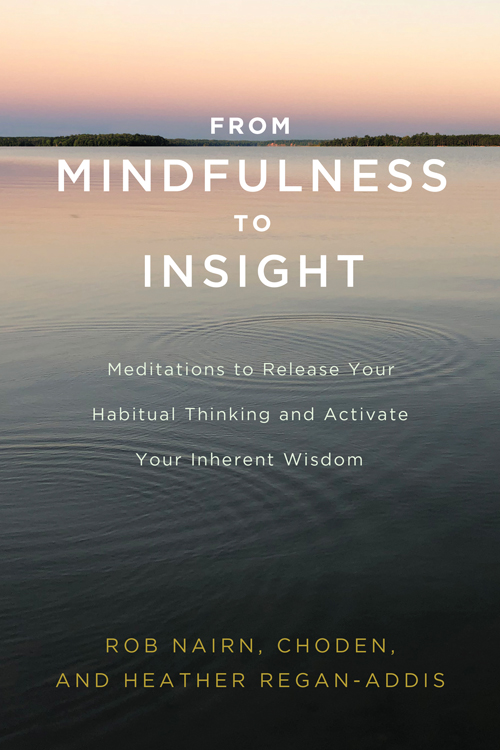 This informative book takes us on a journey which deepens our practice and allows us to activate our inherent wisdom. The book is available in April from Shambala and Amazon. You can pre-order your copy now.
~ Alan