The World Health Organization (WHO) reports on its website that around 20% of children and adolescents suffer from mental health problems or disorders and states that approximately half of all mental health disorders start before the age of 14 [1].  The Guardian newspaper recently reported a sharp rise in the number of adolescents being treated by NHS mental health services, with the number of active referrals having risen by a third between April 2016 and April 2018 [2].  Our young people are struggling, and the future of our planet depends on them.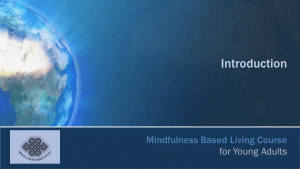 A few days ago, I was standing next to my screen, clicker in-hand, once again feeling the muscles of my sock-encased feet making little adjustments to keep my body upright and supported as I stood ready to deliver the introductory session of the Mindfulness Based Living Course for Young Adults (MBLC-YA).  I could feel the slightly anxious fluttering of my heart in my chest, and I steadily focused on the flow of my breath to anchor myself in the present moment.  I felt a little scared.  I also felt very, very alive.
On this occasion it wasn't teens I was getting ready to deliver the course to; this time it was a cohort of trainee teachers who were attending a 5-day teacher-training retreat at Samye Ling.  The gathered group was a wonderful mix of school teachers and others who'd completed 'Level 1 – Being Present' and then the 'Introductory Teaching Skills' modules, mindfulness teachers who'd trained to teach the Mindfulness Association's 8-week 'Mindfulness Based Living Course (MBLC)' and those who were neither – they had simply completed the first year of the MSc Studies in Mindfulness.  Together over the 5 days we laughed (a lot), some of us cried (a little), and we united in our desire to share this work as widely as we can.  I shall hold those precious shared moments in my heart for the rest of my life.
As a teen, I was locked in constant battle to make my life into what I wanted it to be.  I spent huge amounts of time trying to find a way to feel better about myself by evaluating myself as superior to my peers wherever possible (and often failing miserably) and trying to create a 'perfect' experience of this very imperfect world.  My body didn't look or behave as I wanted it to, and my tricky mind would often keep me awake at night with the hundreds of possible problems that seemed so important in that moment.  I think it's fair to say that I was pretty unhappy.
Outwardly, I created the MBLC-YA for the Mindfulness Association as a tool to support my PhD research into self-compassion and teens.  There is significant and growing interest in mindfulness in schools, but I have a sneaking suspicion that mindfulness combined with self-compassion has much more transformative potential.  The Mindfulness Association training has a strong focus on compassion and it seemed clear to me that an adolescent version of the adult MBLC course could make a real difference to teen lives.  On a subtler level, I'm quite sure that I created the course for my teenage self – to pour salve on that troubled soul who struggled so hard to make sense of life and understand how to live it skilfully.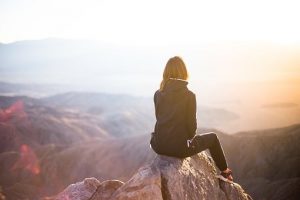 When we teach compassion-based mindfulness to teens, we prepare to work with those who will challenge our teaching abilities and call on us to be the very best versions of ourselves that we can be.  We are called upon to embody everything that we purport to teach, else we shall quite rightly be called out as imposters.  When I train people to teach the MBLC-YA, the vision I have is that of a growing circle of allies.  We brave souls – we mindfulness teachers – we stand at the edge of a cliff each time we prepare to teach; we ready ourselves to step off and trust that the ground will rise up to meet us.  If it doesn't, then we must trust that those who stand beside us, supporting us, will help us learn to fly.
Our next 5-day MBLC-YA teacher training retreat is at Samye Ling starting on 26th July 2019.  Attendance counts as a 5-day teacher-led retreat for CPD purposes.  It would make my heart sing to see you there and have you join our circle of allies.  Together, we can do something pretty wonderful!
-Heather Grace Bond
For more information on the MBLC-YA teacher training, please email info@mindfulnessassociation.net
Heather Grace Bond is a Tutor for the Mindfulness Association. She is currently enrolled on the PhD program with the University of Aberdeen, where she is researching the potential role of mindfulness and self-compassion in Scottish secondary schools.
[1] http://www.who.int/features/factfiles/mental_health/mental_health_facts/en/
[2] https://www.theguardian.com/society/2018/jul/12/sharp-rise-in-under-19s-being-treated-by-nhs-mental-health-services