I have been slowly building up and preparing to head over to Canada to spend some time with my father who is terminally ill. Part of this preparation has been spending extra time and quiet time with my children who are not coming with me.
I've been cooking them their favourite meals, baking more, sitting with them as they watch 'their' shows- I've even taken to watching my sons play their favourite video game, just so we can be together.
I always assumed that they just wanted their space to do these things; however, what I have been finding is that when I do just plonk myself down into their space, they start sharing with me. They start explaining the games, telling me about the plot twists (and sometimes lack of plot twists) in their shows, sending me memes that they find funny (even when we are sitting in the same room) and this natural collision of our worlds occurs.
Oh sure, sometimes they do just want their own space, but what I have been discovering is that my 'visits' into their moments has somehow inspired them to visit my moments.
For instance, if I am watching a movie in my room, my son will drop in and take his spot on the couch and watch with me (for awhile), or when I am in the kitchen cooking, they all seem to find their way in, sit down and rather than surf their phones in their bedroom, they do so in the kitchen with me.
And you know what? It's been awesome. It's been subtle but it has been profound.
Thich Nhat Hanh says, "The most precious gift we can offer others is our presence".
I know this, I teach this, I offer my presence to many people throughout my days; yet, somehow it has taken my father's illness and my impending trip for me to find out what 'Fortnite' is. For those of you who don't know, and believe me I would be one of you if it wasn't for the fact that it has become an extracurricular activity for both of my boys, Fortnite is a videogame that I would say has gone viral in the world of online gaming. It is also an activity that has captivated my boys- I should know what it is!
This has been quite shocking to me. I've always felt very connected with my children; however, this need to touch in more as I prepare to be separated from them has highlighted exactly how separate we have been living within the same house.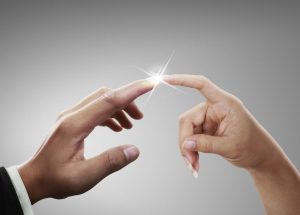 Connection is so important! In fact, researchers at the Greater Good Institute explain that social connection or feeling connected to family, friends and acquaintances "is a core psychological need, essential to feeling satisfied with your life".
Also, Emma Seppala writing for Psychology Today, states that
"Social connection strengthens our immune systems (research by Steve Cole shows that genes impacted by social connection also code for immune function and inflammation), helps us recover from disease faster, and may even lengthen our life. People who feel more connected to others have lower rates of anxiety and depression" (2012)
My goodness, we need to connect more! After 'seeing' all the ways that I haven't been connecting in, it is my intention to continue to plonk myself down into my kids' moments. I am also looking forward to connecting in with my parents and my Canadian family and friends. More connections!
So this week's challenge is make some new connections. Or perhaps, nurture those that you have. Don't wait for a big moment, such as an illness or a wedding. What can you do today to offer the greatest gift that you can give (your presence) to someone?
-Jane
When I first started working for the Mindfulness Association, one of the main aims of my job and continues to be one of the main aims of my job is to help create and foster a strong sense of connection amongst our members and for those who have taken courses with us, as a means of creating a community for mindfulness practitioners to belong to that helps sustain and develop the life long practice of mindfulness. I had no idea that through creating these connections, we may have been lengthening our lives, fighting disease and fulfilling core psychological needs. This is really inspiring to me.
Next month, we are holding our Joyful Club membership weekend (July 6-8th)/retreat (July 6-11th). This weekend is dedicated to creating some joy, practicing together in community and making new connections. Why not join us? If you are a member, email info@mindfulnessassociation.net for the booking link.
Not a member? Why not try it out for £10 for 6 months?
Not only do we connect in weekend/retreats, but every Thursday we connect online through video conferencing for our Weekly Meditation Sits and Live Monthly Teachings. We also have a private membership website that enables members to come together and communicate through forums, private email, membership groups, etc… Make sure to check it so that we can all foster some connections!