The dog days of summer have arrived. The sun is out, the temperature is up, and the days are long.
I've found myself waking early with a joy in my heart- the birds are singing and the morning stillness carries a warmth that means I can enjoy my coffee outdoors and even in my nightie, if I so wish. Gone are the fleeces and the socks, instead, I am pulling on a summer dress and walking my Nelly down by the river so she can get out before the full heat arrives.
This is my idea of heaven.
It is also a memory of what my summers were like as I was growing up in Canada. It is also an ideal that I search for every summer. It's a wish and a hoping and a longing for. And living in Ireland, this does not happen very often.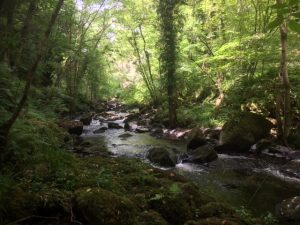 So, you can imagine my surprise when, as I stood forest bathing in the sun dappled wood of Ireland in all her glory, I started pining for somewhere else. I started wishing that I was in Spain on a beach, swimming in the Mediterranean.
It was ridiculous. I mean, have you seen Ireland in the sun? It is an absolute Eden. The trees are lush with foliage, the smell of honeysuckle and roses envelop every blade of grass; and there are a lot of blades of grass on the Emerald Isle.
Why is it that even when we get 'what we want', there is always something more that tantalizes us?
Larry Rosenberg, author of the book, Breath by Breath: The Liberating Practice of Insight Meditation, answers this question when he speaks of the 'gaining mind' or as I have known it to be called, the striving mind.
He explains it in terms of the greatest paradox of meditation:
[W]e want to get somewhere- we wouldn't have taken up the practice if we didn't- but the way to get there is just to be fully here. The way to get from point A to B is really to be at A. When we follow the breathing in the hope of becoming something better, we are compromising our connection to the present, which is all we ever have (p.33).
My hoping for something else, for something better (which in all actuality would probably prove disappointing) was compromising my connection to the present. And the present was and is worth noticing!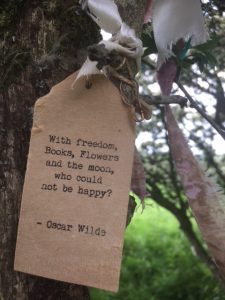 So, as I have been moving through these dog days of summer, I have noticed my 'gaining mind' from time to time. Whether it be a wish to be on my dock at my cabin so that I can cool off in the lake, or a desire to live somewhere where the dog days of summer are a bit more permanent, I have been reminding myself to just be fully here with what is in front of me, with this moment of glorious sunshine or with this moment of sticky heat.
Two weeks ago, Vin Harris dropped by the membership's Live Teaching and spoke about the nature of suffering. He explained that our suffering is linked to our preferences and our likes, our dislikes, our desire for things to be different: our 'gaining mind'. This week, I have set the intention to notice my 'gaining mind' and to simply come back to what is and to be with what is and to cherish my moments just the way they are. I would like to invite you to do the same.
With this in mind, I will leave you now as in this moment my son has walked into the room asking for some attention. I have some cherishing to do.
For Mindfulness Association members, to watch Vin Harris's Live Teaching, log on to membership site to find the recording there.
Or, perhaps you would like log on to the Weekly Sit, where I will guide a practice that focuses on noticing our 'gaining mind'. Is it present or are we able to just be with our practice, rather than hoping for something better?
Not a member? Joins us here!
Or, why not sign up for our Level 1: Being Present, where we fully explore mindfulness, and move towards establishing a practice for life.
-Jane