Last week, I stumbled upon an article that asks 9 scientists about their happiness practices. This peaked my interest- scientists with happiness practices! How wonderful!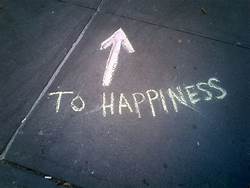 I knew some of the practices that were outlined: Loving Kindness meditation, Mindfulness of Body through exercise, gratitude, gratitude and more gratitude, meditation, etc… However, there were a few nuggets in there that were new to me.
For instance, there was one practice that asks that we are 'alert to high- quality connections (HQCs) that [we] have with other people during the course of the day'- along with many mentions of the importance of community and affiliation. In other words, feeling connected, feeling in relationship with others and feeling supported all can contribute to our health and well-being.
After reading the article, I took out my journal and made a list of all of the HQCs that I had experienced throughout the week. There were many and gratitude immediately stepped in.
I don't see many people throughout my work week as I work from home; however, in any given day, in any given hour, What's App delivers me messages from the beloveds in my life. Skype brings my parents into my living room. And walking through the town carries encounters with my community and my best girlfriends who are really like sisters to me.
So, as I set an intention to be 'alert' to HQCs, I started to notice them all around me, and I started to really see if I could help transform any connections into high quality ones.  I am trying to do this through slowing down and really being present for other people- hearing and seeing them.
As part of our mindfulness teacher training, we learn of the importance of hearing and conveying back to others what they share as a means of encouraging connection and making sure that we in fact do hear and do understand what they are saying and that they are seen. This has really come alive for me in my day to day living. For instance, my son was telling me about his day at school and how he was feeling fed up. I didn't try to fix it for him but told him that I heard him.
He thanked me. This is huge for my 16 year old boy.
It has been a bit of a revelation for me. Rob Nairn often quotes Krishnamurti when he says 'the seeing is the doing'. Noticing my HQCs has helped me BE a high quality connector.
We have just launched a new membership site at The Mindfulness Association. Our new website was created so that we can connect people. So that we can support community and help build relationships. So that we can facilitate some HQCs.
Members can log on, create profiles, join groups and participate on our many forums. I've set up a discussion post to discuss just this- connection and the happiness that might arise from connection. If you are a member, why not log on and join me in the discussion? Maybe together we can create some HQCs.
Interestingly, I was also reading a research paper titled 'Community Perspectives and Subjective Quality of Life' by Bramston, Bruggerman and Petty (2010). In it they state that '[r]ecent research has demonstrated that community integration needs to be more than simply living within a community, people need to use the community and feel like they belong'. So this week's challenge is for members to log on and use the membership website so that we can all belong together!
Oh- and also to notice high quality connections wherever you!
Not a member? You can sign up for a £10- 6 month trial here.
Click here for '9 Scientists Share Their  Favourite Happiness Practices' article.
-Jane
To visit our website: please click here
To join our membership: please click here
Follow us on YouTube: please click here
Follow us on Facebook: please click here
Follow us on Instagram: please click here