When it comes to Mindful Eating, my cousin paves the way. I am sure if she reads this, she will contest; however, she consistently and diligently tries her hardest to stick to the 100- mile diet (only eating foods grown within 100 miles of where she lives). This means she eats seasonally as much as she can (in the moment food!), is mindful of the source of the food AND is very busy canning and preserving all summer long.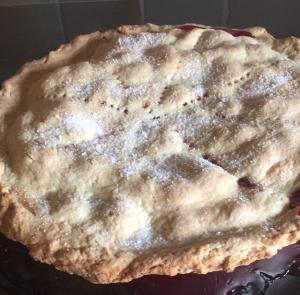 If I'm honest, just the thought of the level of commitment that this takes makes me a wee bit exhausted. Inspired, but exhausted. I admire her dedication to consuming ethically.
We grew up in a family that grows and preserves things. So, I'm not that surprised that it appears to be no big deal to her. On top of a summer garden that would produce, peas, beets, cucumbers, potatoes and corn, our grandparents would pick berries and mushrooms and make us do so, too. The more hands, the bigger the bounty. The berry season was my favourite. It started with wild strawberries, raspberries, blueberries and then ended with low bush cranberries. We would pack picnic lunches and traipse into the woods looking for the bonanza- the berry patch that keeps on giving.
There were always a lot of pickles, pies and jam.
When we speak about Mindful Eating, it is usually about 'how' we eat; however, it is also about 'what' we eat. Jan Chozen Bays MD, author of How to Train a Wild Elephant and Mindful Eating, offers helpful tips such as taking one bite at a time, explaining "[w]hen the mind is absent, thinking about the past or future, we are only half tasting our food…[p]ursuing pleasure without mindfulness is like being caught on a treadmill. Mindfulness allows pleasure to bloom in thousands of small moments in our life" (2011p.107). And this is important!
However, Thich Nhat Hanh takes Mindful Eating to the next level when he outlines that the practice should include the reflection of what makes up the food that we eat and where it comes from. He explains that our food is "the gift of the whole universe: the earth, the sky, the rain, and the sun" (2009 p.137) and that we might thank "the people who have made this food, especially the farmers, the people at the market, and the cooks" (Ibid). In this way, our Mindful Eating meditation moves into really sensing into how all things are interconnected and this provides the opportunity to practice gratitude.
Now, I can't hold a flame to my cousin in terms of being mindful about what I eat, or indeed what I preserve. However, during the summer months, when the earth's bounty is plentiful, I am always inspired to forage a little more and to choose fruit and produce that are in season. It's so much easier when the grocer's aisles are filled with new potatoes, FRESH corn on the cob, beets and berries all grown relatively local. So rather than become overwhelmed by what I am not doing, I can start where I am and do what I can, working with what I have.
For me, this means doing a number of small things. For instance, I check labels on the produce that I buy. Sometimes,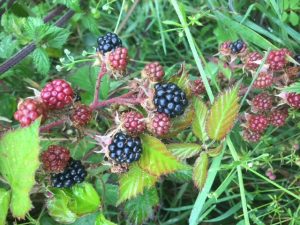 strawberries grown in Israel are sitting next to the strawberries grown in the next county over. In the past, I have also chosen one vegetable to grow. So for a while, I was growing all of my pumpkins which I would use for pies, breads, soups and Halloween. This year, I have stumbled upon a wonderful raspberry and blackberry patch on my daily walk with my Nelly. The result: we enjoyed our first pie last weekend.
Being mindful about 'what' I eat and how my food is produced contributes to my Mindful Eating practice. As we sat as a family sharing our raspberry pie, we all savoured the flavours, spoke about how special 'wild' raspberry pie was in a world where everything feels mass produced, and made sure to really taste the rain, sun and earth. However, I also gave thanks that I had the hands and the experience to be able to prepare the pie, which I did out of love for not only my children, but all of the generations of foragers and bakers that came before me.
Therefore, this week's challenge is to find one small way in which you are mindful about 'what' you eat. Start small and take little steps. Then, once eating the food that you have chosen, you might like to move into being mindful about 'how' you eat by slowing down and savouring all of the flavours, textures, colours and the knowledge that this food holds the whole universe and all that it has to offer.
-Jane
Jane Negrych is a tutor for the Mindfulness Association teaching on their mindfulness, compassion and teacher training programs. She will be teaching on the upcoming online Level 1: Being Present course, starting this September.