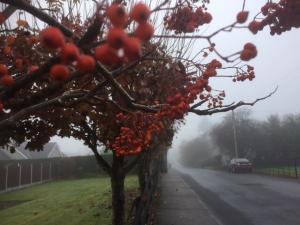 Winter has landed and its mists and tendrils have begun to seep into the corners and crevices of my world. My fire is lit more evenings than not, my relationship with my home heating oil company has been re-established, my morning walk time has been adjusted to accommodate the long nights and I have been hankering for pots of soup and stews and all things warm and nurturing.
It's at this point of winter that I love the most, for it hasn't been here long enough to wear me down. Instead, it is a time in which to prepare: prepare the hearth, gather the sticks, fluff the cushions and get ready for a time of slowing down and a move towards deep stillness.
In some ways, November is the perfect time to strip things down and to live life quietly. The pressure that can come with the month of December's noise and clatter has not reached its full peak, the nights out and holiday parties have not yet begun and there is this quiet and measured pace that has taken over the natural world. The energy has shifted.
For me, this means that I have been making plans with friends for practice sessions, I've stock piled my books and I have started to search out quiet events to attend that will soothe my soul after a busy and long summer/autumn period.
What about you? If you were to prepare for the darkening days and the deep of winter, what would that look like?
Perhaps, this week's challenge might be to sit in practice and reflect on what would winter preparations look like to you. Maybe you could write down a plan, make a list of provisions needed and ready yourself for a move towards stillness and living quietly, just as the natural world does.
-Jane
If you are looking for something to do- the Mindfulness Association and the Mindful Living show are teaming up to help facilitate this move towards stillness as winter lands. Heather Regan Addis and Choden will be guiding meditations taken from the upcoming From Mindfulness to Insight book (to be released in April 2019), on the Mindful Living Show's Facebook Live feed. Make sure to 'like' The Mindful Living show and to tune into Facebook on Thursdays, November 8, 15, 22 and 29th at 8pm.
Choden will then be speaking at the Mindful Living Show on March 15th/2019. Get your tickets here!