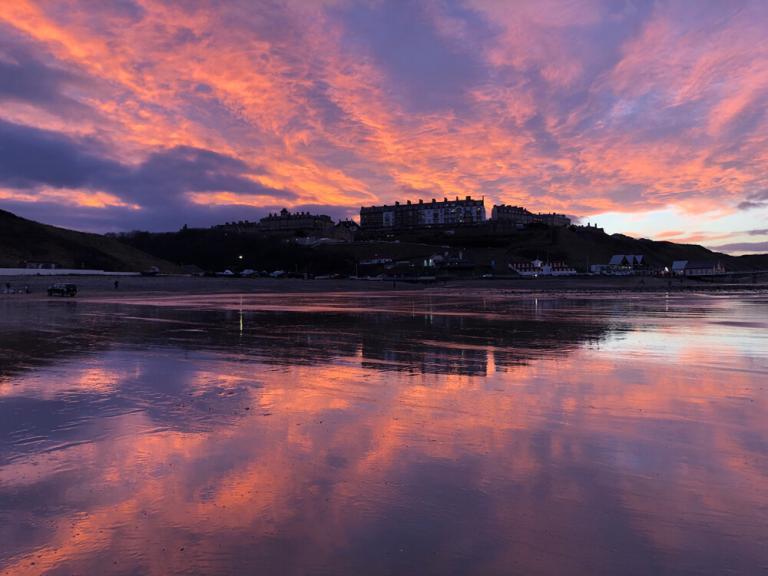 "Start now. Start where you are. Start with fear. Start with pain. Start with doubt. Start with hands shaking. Start with voice trembling but start. Start and don't stop. Start where you are, with what you have. Just…. Start" (Ijeoma Umebinyuo).
As we begin another new year I am reminded of the constant endings and beginnings that are the flow of life.
We transition through days, months, seasons and years. Warmth of Summer bleeds into the icy chill of Winter, connected by a golden Autumn. At the turn of the year we are submerged into long dark nights and grey, stark landscapes bereft of it's bright colours. Frosty winds chill our bones requiring us to wear heavy warm coats, hats and gloves, which make the experience of being outside very different to the Summer.
With the passage of beginnings and endings suffering almost always surfaces from desire and preference. Do we get stuck in our ending or can we start where we are?
Pema Chodron (2001), describes that the pain we experience is a result of what's called 'ego clinging' or wanting things to work out on our own terms.   She says that "ego is like a room of your own, a room with a view, with the temperature and the smells and the music that we like.  You want it your own way. You'd just like to have a little peace; you'd like to have a little happiness, you know that feeling of just "gimme a break" (Chodron, 2001, p.47).  In our insight training this sense of preference and 'me'ness is referred to as the Egocentric Preference System. At any given moment we have a tendency to examine "what we like and what we do not like" (Mindfulness Association, 2011-15, p.5).
Endings and Beginnings
Recently, over the Christmas period in fact, I have witnessed another ending and beginning. It presented itself as the sad death of the mother of a dear friend.  I have personally been through this experience first-hand.  And yet, observing the impact of this huge loss on a family brought home the stark reality of suffering. Of transitions. Of endings and beginnings. The loss of a mother, a grandmother and a wife. For each family member, life will never be the same. Suddenly for this family the preferred room with the view, the right temperature, smells and music has been turned on its head. The room now is very much not the room of preference. An ending, and yet a new beginning – a transition into how life will be, not how it was.
I took great heart in watching this 92 year old man, whose wife of 70 years had been taken from him, have the courage to start where he is.  Loaded with grief, he decided to live.  Whilst acknowledging and allowing the sadness to be present, he also allowed joy to sit hand in hand with the grief.  He takes joy in his memories, in his children, his grandchildren and great grandchildren. He found the joy in a walk by the sea and a fish and chip lunch.  With no mindfulness training at all, this amazing man, taught me the true meaning of mindfulness. To be aware of what was happening, accept, allow and be present amidst all the conflicting emotions.  I saw in him that life had taught him to be more curious than afraid (Chodron, 2001).
Transformation had also arrived at the seafront where we took my friend's father.  A vertical pier, resembling the ghost of a helter skelter from a bygone era, stood prominently on the sea front.  Two traditional horizontal piers had once reached their dark arms out to the sea.  They had succumbed to the harsh elements, and were no more.  So rather than looking back at the sea town from the end of the pier, from the end of this pier you look down on the town the beach the sea and the promenade.  Change has occurred.  The change is embraced by the people who visit. Including us. Including this man who has seen the transition of time and evolution change this seaside town, which has featured in his life for all his 92 years. He is acknowledging his grief, acknowledging change, but with a willingness to start where he is.
Weekly Challenge
This week's challenge is to reflect on transitions that may be going on for us now.  It may be a gentle transition or a harsh and sudden transition.  It may just be the ending of one year and the beginning of another.  Notice your own preference system and how it relates to this change. Are we able to mindfully start where we are, without preference and judgement?
I would love to hear how you have overcome changes and what you have noticed about your Ego Preferential System in that process. Please email me at membership@mindfulnessassociation.net or leave a comment below this post.
I leave you with the wish that the transition of the new year and seasons brings you happiness, peace and insight.
References
Chodron, P., (2001). Start where you are: A guide to compassionate living. Shambhala Publications.
Mindfulness Association., (2011-2015).  Insight Module – Weekend One.
Umebinyuo, I., (undated). LiveLifeHappy. Available: https://livelifehappy.com/life-quotes/start-now-start-where-you-are-start-with-fear-start-with-pain-start-with-doubt/