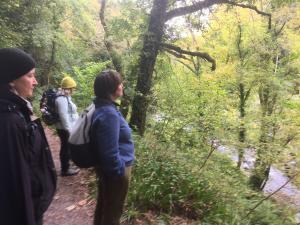 I have sangha envy. Well, I've had sangha envy for some time. My best friend completed the MSc: Studies in Mindfulness with the University of Aberdeen and her cohort have somehow been able to maintain their community of supportive practitioners beyond graduation. Each year, and sometimes twice a year, they come together to practice, play and support one another. They call themselves the 'Nothing to Do, Nowhere to Go' club and they come wearing hoodies emblazoned with this mantra!
Needless to say, I've been wanting in; and this past weekend, I was shown a glimpse of and reminded once again just how powerful and nurturing a community of mindfulness practitioners can be.
Now, I wasn't shown the full hurrah of the 'Nothing to Do, Nowhere to Go' club as only a few members were able to come over to Ireland, where my best friend and I live. However, I am 100% OK with this as being with a small group created the conditions for deep sharing. I like to think I took part in their tutorial group- a vehicle that we use in all of our mindfulness training so that participants have a smaller space that feels safe and supported.
Over the weekend, we ate, we talked, we attended culture events, we walked- practice interspersed these moments. However, for me, the highlight was the organic creation or modification of the Mindfulness Association's Level 1: Being Present practice of Settling, Grounding Resting with Support (Breath or Sound). Our little group turned this practice into a walking version of Settling Ground Resting with Support of Forest.
As we began our walk, we set our intentions with answering the question to one another of where we saw ourselves in ten years- time, we settled our mind by stopping regularly, dropping  conversation and distraction to take in the woods in silence, then guiding our attention into our feet and the earth as we made our way to a waterfall where we sat and rested.
It was beautiful and poignant and it highlighted to me how coming together with other practitioners to share and drop into practice with is an integral part of the practice of mindfulness. It facilitates growth, inspiration, creative expression and the shared experience of stillness. And in this sharing my encounter with the present moment is amplified.
Practicing together encourages me to keep going.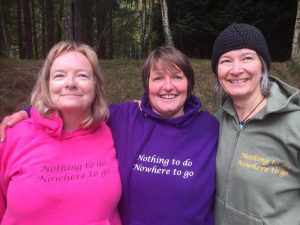 This week's challenge is to find a practice community, whether that be a drop- in meditation group, signing up for a course or ringing a friend and to move towards touching in with other practitioners. If you are a member of the Mindfulness Association, you might like to attend the weekly sit or the monthly live teaching, setting an intention to share, to learn and to grow alongside sangha.
-Jane
Not a member? No problem- sign up here.