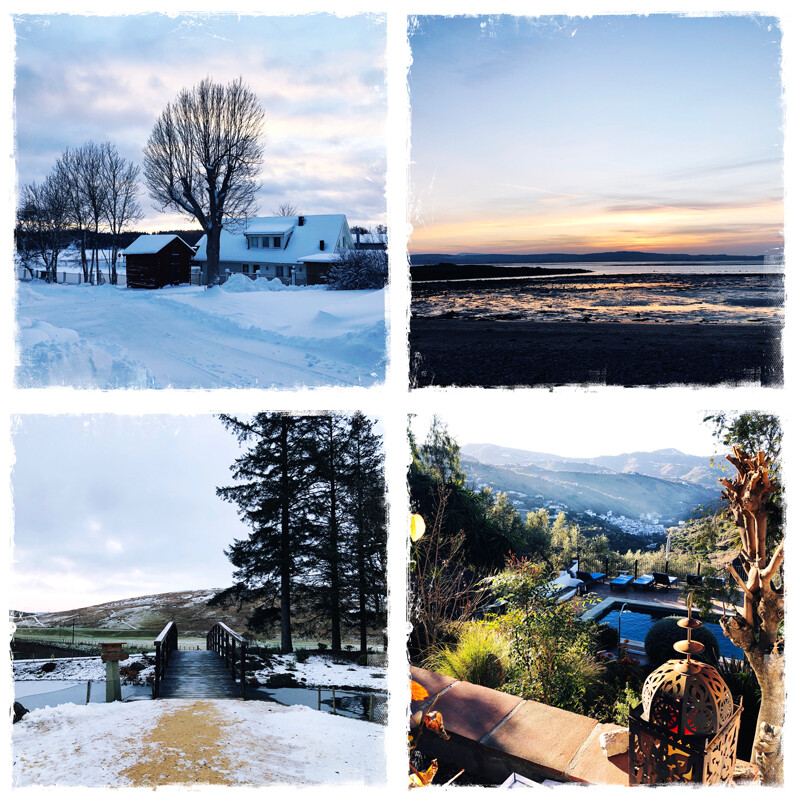 Over the last 4 weeks I have been on the 'road'.  From my home, north of London I have travelled to Yorkshire twice, Scotland twice, Manchester twice, Sweden, Northumberland and Spain.  I've slept in 10 different beds, taken 4 flights and 20 trains. I've experienced extremes of temperature and weather from -14 and thick snow to 28 degrees in the sun. I have only had a day or two at home in between trips, which have been consumed by a cycle of unpacking, washing clothes and packing.  As I near the end of this period of travel, I am aware that I have lost a sense of 'home' in a physical sense.  Home has become my being, my suitcase and my mindfulness practice.  It has been a period of mindfulness in motion.   
During this intense time of travel, I have had to depend heavily on my mindfulness, compassion and insight practices.  I have had to be present, respond with compassion and see deeply, just to cope with how being constantly on the move has made me feel.
My body feels tired and strange.  It has frequently been travelling in a linear direction at various speeds and even when I stop – my body feels like it is still moving. I am also aware of dipping in and out of noisy, chaotic environments such as airports and stations.  I have not been able to do my usual morning yoga practice and I have missed it. My usual meditation practice has gone out the window.  Instead of practicing on my cushion, I've had to do my practice on the move or in a hotel bed.  As a result, I have been bringing my practice more into daily life by taking snatches of time to do the 3-minute breathing space or self-compassion break. To become totally aware of how I am in every given moment. Then I forget and have to start again.
My mind feels tired and I don't feel as grounded as I usually do.  I keep making mistakes.  I am not as sharp as I usually am. To begin with I noticed tremendous resistance to all this chaotic way of being.  I became irritated living out of a suitcase – clothes always crumpled, often forgetting some item of luxury which I depend on to 'feel at home' – like a comfort blanket. Missing 'my space'.
I feel disorientated. When I wake up in the mornings, I am not sure which bed I am in or where I am.  It feels confusing. A friend informed me that when we travel at speed our being loses touch with our bodies, and that one should lay down and be still for a while for everything to catch up.  This made absolute sense to me.
During this time, I read 2 books about silence.  One by an explorer called Erling Kagge entitled "Silence: in the age of noise". The book is summarised in an appraisal on the back cover – "Silence braces a space within which we can hear ourselves think". The other book is by renowned Mindfulness teacher and monk – Thich Nhat Hanh and is called "Silence: The power of Quiet in a World full of Noise".  He says, "Mindfulness is the practice that quiets the noise inside us".
The essence of these books is about finding a sense of stillness and silence within, despite living in a noisy, busy world and having a noisy, busy mind. Both books fundamentally brought me back to what are for me, the ultimate practices from the Insight Training – Resting in the Midst and HIFAWIF (How do I feel about how I feel).  These practices invite us to become aware of how we are feeling and reacting by noticing the space around us, sounds and our experience through all our emotions, sensations and thoughts. I love how it encourages us to be receptive and open to our experience in the moment – not thinking and analysing about what's happening but allowing whatever arises to be there and meeting it with acceptance – resting in the midst of it all.  HIFAWIF helps us understand how we are feeling in layers which reveals some depth to what's actually going on. By doing this I was able to notice my tired, disorientated body and mind and my conflicting emotions. Then I was able to rest in the midst of my travels.
From my mindfulness practices over the last month I have become aware of this stillness and sense of space inside me despite the constant movement. Despite the constant noise. Despite the lack of physical stillness. Despite the internal noise of my own mind chattering away with its preferences and self-criticisms.
Every time I have felt dis-ease with myself or environment I have practiced the settling grounding and resting sequence which is the anchor to my meditation.  Becoming aware of exactly how I am feeling and accepting that has helped me relax. I have responded to my situation and how I am feeling with compassion. I check in how I am feeling about how I feel.  Then I move into the resting in the midst practice, and just rest in it all – whatever is going on – wherever I am.  In their new book From Mindfulness to Insight, Rob Nairn, Choden and Heather Regan-Addis state that the point of meditation is that "everything becomes the practice" by being able to rest by "being with all of our experience in this moment". I realised that this gave me a sense of 'home' within myself – well until the next time anyway!
Weekly Challenge
This week's challenge is to check in with how you are feeling right now.  Then ask yourself how you are feeling about how you feel.  Is it possible for you to rest in the midst of everything that's going on for you right now?
If you haven't already done so, continue your mindfulness training by signing up for the Level 2 – Responding with compassion or Level 3 – Seeing Deeply courses where you can practice resting in the midst of everything.
I wish you well this coming week
Warm wishes
Jacky
References
Hanh, T.N., 2015. Silence: The Power of Quiet in a World Full of Noise. Random House.
Kagge, E., 2017. Silence: In the age of noise. Penguin UK.
Nairn, R., Choden., Regan-Addis, H., (2019). From Mindfulness to Insight. Shambala.
From Mindfulness to Insight will be published in April, 2019 and is available for pre-order