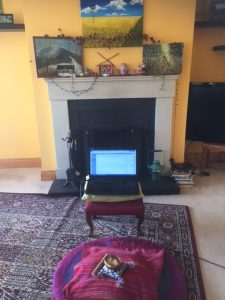 This evening I am sitting in my big green chair preparing to teach the first session of the Mindfulness Association's latest Level1: Being Present online course. I feel excited and inspired. This is the online course's second run, and as I look over my notes from its maiden voyage, I am shifting things, making changes and eagerly waiting to meet the new group.
When my colleague Helen first proposed that we move the Level 1: Being Present course online, I felt a bit reluctant. The level of commitment (2hour session once every two weeks for 8 months), more time online and the question of 'will they come?' kept popping into my head. However, what has been my experience of the Level 1 online is an opportunity to log on, meet new people and teach all from the comfort of my own home. I do not have to go anywhere! And with the shortening days and the darker nights, and without much hassle, I can create my little meditation nest in my sitting room and teach, practice and learn with a group of like-minded people from all over the UK and beyond! It has surpassed all expectations and quashed any of my concerns.
In some ways, the Level 1: Being Present online course has come at the perfect time-a time when I have been moving towards simplifying my life. For instance, I have been spending more quiet weekends at home, cooking basic healthy meals using local produce and starting my days off with a walk through the forest that sits close to my house. Sometimes, my car sits unused for days! The best part is that my carbon footprint is reducing through these very small changes!
Tonight's session will see the beginnings of a brand- new group. Some will have had quite a bit of experience with mindfulness, others not so much, some have plans to move forward onto the teacher trainer pathway, others are just looking for community to sit with and to deepen and develop their practice with. However, all of us will spend two hours exploring our minds and moving towards a place of just being with our experience, rather than trying to add to it or take anything away. I can't think of a better place to be on a Wednesday night but at home connecting in with others through the practice of mindfulness.
So this got me thinking about this week's challenge- how would it be to find ways in which to simplify life by using the resources we have that are close to home? So rather than running off to see that big production in the big smoke, is there a local theatre troop performing close by? Rather than driving to the next town for the Tesco Extra, can you find everything that you need in your local shop? Rather than ordering even more books from Amazon, can you finish the pile of half read texts beside your bed? In the spirit of mindfulness, can we just be with what we have without trying to add to our 'stuff' or take anything away?
And as a member of the Mindfulness Association, this might be logging on to hear the teaching on bringing mindfulness into the workplace by Vin Harris that is happening tonight- a resource that is already there and in your own home. ?
-Jane
Not a member? No problem, sign up here.