This week's blog is about a journey of 'planes, trains and automobiles'. It is also a journey 'from mindfulness to insight'.
It is Friday. Having had a wonderful 2 days and very productive marketing meetings at Samye Ling with Heather, Choden and Duncan, my next stop is a training course in Sweden, via Manchester. The news that there is a lot of snow in Manchester causing many flight cancellations starts to press my panic button quite early on in the day. Stories of not making it to my destination, and what I will do, begin to display on the silver screen of my mind.  I bring in my mindfulness practice as soon as I perceive this and gently observe my breath.  This successfully brings my mind back to a state of equanimity and the task in hand – marketing discussion.  Heather kindly takes me to the station – my journey has begun. What I didn't realise was that my journey would entail using much of my mindfulness, compassion and insight training.
13:00
I arrive at Lockerbie station only to find my train to the airport is cancelled.  The stories in my mind begin again. This time the story is in full technicolour along with feelings of angst arising in my belly. The next train isn't for another hour. My story is – 'I am going to miss my flight'.  It goes further than that with the impact of not catching my flight. There is fear around costs, should I catch another flight, missing the course I'm running in Sweden etc., etc. I notice that my mind is going crazy with anxious thoughts.
14:30
The next train is delayed. 
This now leaves a very tight timeframe at the airport to catch my flight
to Sweden. 
Having had 2 days of the peace and calm of Samye Ling and company
of my mindful MAHQ colleagues, I notice, to my dismay, a crowd of rowdy, young
lads wielding beer cans surround me on the train.  It's a stag do and the groom to be is dressed
in a wig and pink tutu.  I am mindful of
what is happening and how I feel. To begin with I notice my judgemental mind.  Reaching for my new noise cancelling
headphones, I find they have run out of battery! My mood shifts at the thought
of spending the next two hours amidst chaos. I shift my thinking immediately to
an antidote of appreciation of the joy and excitement these lads are
experiencing. At this point I laugh at myself and smile. I have compassion for
little human me navigating this experience. 
Finally, I draw upon, what is one of my most treasured practices from
the Insight training – 'Resting in the Midst'. 
Is it possible I can rest in the midst of this experience and allow it
all to unfold?
17:00
After two and a half hours, I arrive at the airport and the
answer is 'yes', I am able to rest in the midst…. For now anyway. I have an
hour to check in and catch my flight.
I feel a sense of relief flow through my body.  All is going well until I reach security.  Having purchased a fast track ticket to get me through security quickly, I suddenly reach a halt.  To my horror, I watch my carry-on bag and boots being diverted into a long queue of trays of bags to be tested!  Boarding is in 20 minutes. Here I am in my socks waiting and waiting for what seems like the slowest security procedure in the world to take place. My day is proving to be a roller coaster of emotions, from relief of it being ok, to stress of the fear of missing my flight.  Eventually 1 minute before boarding, my contact lenses, the cause of the concern, are given the all clear by security!! I didn't realise they were potentially a danger! Relief again.  Hearing my flight being called I rush to the gate.
18:30
At the gate I now find that the boarding is delayed!
Realising there are bad weather conditions, i.e. lots of snow, at my
destination – Stockholm, my friend informs me it is unsafe for her to collect
me from the airport.  I will need to get
the train.  So, for a few minutes I feel
tired at the thought of arriving late at night in an unfamiliar airport to find
my way to the right train. I can feel my mood dropping. But still using my
practice, I try to remain aware of how I am feeling and give this whole
experience some space.
19:00
Boarded!  A sense of relief.  I settle into my seat using the settling, grounding, resting practice to bring myself back to a sense of stillness and observation. I can finally relax. Then the announcement.  There is a further delay – we will not take off for another 2 hours! I do the self-compassion break. I am tired and need some soothing! I draw on the words from the practice: "This is a moment of difficulty".  "Just like me, others are experiencing this difficulty too".  "May we all have the patience and energy to relax and accept this experience". "May we all reach our destinations safely".
I look around the plane. People are suffering.  A lady sitting in front of me is severely
disabled – the delay will have a massive effect on her body. A man behind me
starts to panic about missing his connections – he complains to the
stewardess.  Others sigh and reach for
their newspapers and smartphones as a distraction.
By this time, I notice I feel disorientated, weary, tired.  Interestingly I am beyond anxiety. I am accepting the experience just as it is.  Feeling the experience in my thoughts, emotions and body I create space around it.  I am not this experience.  I begin the 'Resting in the Midst' practice from the Level 3: Seeing Deeply training once more and hardly notice the time pass before we eventually take off.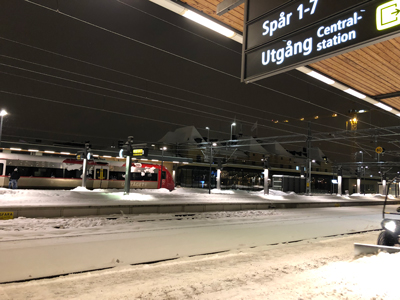 Having safely arrived at Stockholm airport, somehow, I manage to catch the last train to Uppsala, my destination. I now find myself navigating a deserted, snowy, and what seems like a ghost station with a maze of stairs and corridors in every direction. 
I wait for my friend to arrive.  I see car headlights glowing through a freezing mist, heading towards me. It is my friend.  I notice my mood shift and recall the example of the pleasant events practice that is in the first session of the Mindfulness Based Living Course – "how does it feel to meet a friend you haven't seen for a while?" A feeling of warmth and softness fills my body as I finally relax at the relief of having reached the end of my long journey. It was a journey of challenges and delays and snow, but it was also a journey from mindfulness to insight.  I had been mindful of what was happening while it was happening. I recognised what was happening from the Mindfulness Level 2 – Responding with Compassion training and used the self-compassion break throughout my journey. Finally, I understood what was happening from the Mindfulness Level 3 – Seeing Deeply Insight training – and realised the best option was to rest in the midst of it all.
Weekly Challenge
This week's challenge is to reflect on any current challenge in your life. How can you use your mindfulness, compassion and insight training to help you cope in the midst of this challenge? I invite you to take a moment to become aware of where you feel you are on your own mindfulness journey. What could be your next step on this path?
I'd love to hear from you with your own reflections. Please leave me a comment after this post or send an email to me at: membership@mindfulnessassociation.net.
I wish you well on all your journeys.
Warmest wishes
~ Jacky