I found myself in a cabin in the woods in the middle of storm.  Yes, the one we all felt the effects of last weekend. Storm Ciara.
The cabin is somewhere I retreat to on a regular basis.  It is in the middle of woodland surrounded by chalk streams and near a lake.  It has an abundance of wildlife and is a beautiful place to walk, rest and to just be.
As I like watching and photographing nature it also serves as a hide.  It has big windows looking out in every direction which means it is easy to just sit there, drinking a cup of tea and watch a shifting landscape of all things nature.  I always feel very blessed when I am there.
The cabin was built in the 1900s for a little girl suffering from TB.  It was thought that fresh air and nature had healing properties for the disease. Interestingly, I always feel relaxed and deeply rested when I stay there.
After one of those beautifully chilly, crisp and bright days, with big open blue skies I woke in the middle of the night to a noise I hadn't heard before – seriously howling wind.  The storm had arrived. I laid in bed in the middle of the night resting in awareness.  I realised an element of fear wasn't far away but also curiosity as I now surrendered to the experience of all things storm.
I woke up in the morning after a restless night, haven repeatedly been woken by sudden gusts of wind in excess of 70 miles per hour battering the cabin, to the sight and sounds of a tree crashing down right in front of the cabin.  Filled with gratitude that it hadn't fallen towards the cabin and at the same time thinking of that first cup of tea in the morning, the power suddenly went.  With only electricity as a means for cooking and lighting I became aware of my disappointment that I couldn't have a cup of tea.  Thoughts of going out for coffee soon vanished as the wind became even stronger throwing swirling, animated debris all around the cabin and its grounds.
At that moment I decided to do a short practice of Settling Grounding and Resting, which comes from our Level 1 Mindfulness Training and chose the sound of the wind as a support.  I wanted to check in with how I was feeling and what was present for me in my internal world.  I set an intention to use the day to remain in the cabin and watch with curiosity and alertness to everything as it unfolded.  It was to be a day of mindfulness and a brilliant opportunity to take time out of my busy life to just rest, in awareness.
In the short practice I noticed this innate energetic feeling inside my body of wanting to do something.  As I am quite busy in my life generally, I reflected on how the nature of my life recently has been filled with various demands on my time plus a lot of travelling. Here was the ideal opportunity to take time out and do nothing.
During the day I dropped in and out of my practice.  It felt similar to the 'On Duty Off Duty' practice which is part of our Level 3 Insight training and also features in the book, From Mindfulness to Insight by Heather, Choden and Rob. This is where we alternative between sitting in meditation practice for a few minutes and then rest in awareness for a few minutes. You can download the app and try the practice from the Insight section or do the practice here.
I became aware of my body gradually softening and letting go to the point of not actually wanting to get up and do anything at all. This led to feeling more relaxed than I had in a long while.
Outside I saw birds struggling to rest on the trees which had now become a moving target for them.  Their song was quieter than usual.  The water birds on the river and lake seemed oblivious, with ducks and moorhens carrying on as usual. Trees seemed to bend in extraordinary, almost impossible contortions.  This reminded me of how important strong roots are to allow flexibility and flow in life – for ourselves as well as trees. The settling, grounding and resting phase of my practice enables me to lay these strong foundations of feeling rooted to the ground. The anchor for my practice.
Out of one of the windows I saw a strange phenomenon occurring which I had never witnessed before. Bubbles of air were bursting out of the riverbank into the water, like mini explosions.  After a while the mud near the bank started rising and falling like it was breathing.  Then suddenly a large tree above the riverbank and just metres away from the cabin slowly, gracefully and effortlessly fell to the ground with a strange creaking noise.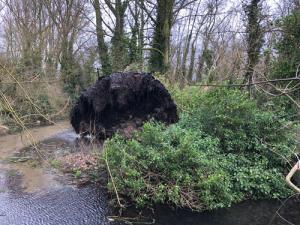 At first, I felt very grateful it had fallen away from the cabin.  If it had fallen towards the cabin there would have been a lot of damage and I certainly would have been injured in the process. In that moment I became lost in the nature of things. In the nature of the storm that had caused the tree to fall. In my relaxed state of awareness and acceptance I acknowledged yet another reminder of impermanence and yielding to what is without preference.
This day of unexpected but very welcome practice has been highly valuable to me and has taught me many things.
Early the next morning, my mindful state continued as I realised my path home had been blocked by yet another fallen tree, making me miss an event.  I noticed disappointment rising but relaxed back into a state of acceptance, and grateful for the electricity being back on, went back inside and made a very much appreciated cup of tea.
On reflection, as I write this, I am reminded of those times in life when we find ourselves in difficult circumstances or life isn't going quite the way we would like. Sometimes these situations take us by surprise, just like a storm. The storm taught me that by creating some space, allowing and accepting with some gentleness for myself may help me to sit out my own personal storms, knowing that they too will pass.
Weekly Practice
This week I invite you to reflect on a time when you have been forced to stay indoors and rest.  How did this make you feel?  Were you able to surrender to the event and just be or can you feel resistance?  You might even want to reflect on how the storm affected you and how you felt about it. Maybe you were stranded or had to change travel plans or were forced indoors.
I'd be interested in hearing your experience and thoughts so please do leave a comment after this post or email me at membership@mindfulnessassociation.net.
Having a day of mindful awareness practice is something you might want to plan for yourself, or join one of our upcoming practice days which you can join online.
Until next week, take good care.
Warmest wishes
Jacky
Jacky will be co-teaching Level 1 – Being Present with Alan Hughes at Samye Ling 13 – 15 March 2020 and on the Level 2 – Responding with Compassion with Heather Regan-Addis at Samye Ling Summer 2020.
We'd love to see you there.
Jacky has contributed a chapter to the Mindful Heroes Book entitled "Turning Empathic Distress into Compassion – A Hero's Journey for Family Carers".  You can hear an extract from the chapter where she talks about the results of her MSc Studies in Mindfulness on Compassion & Family Carers. You can download a free sample of Jacky's chapter here.