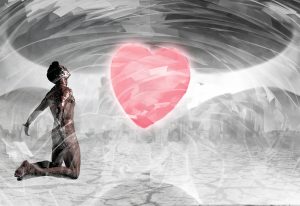 Sweet Surrender- the practice of mindfulness…
This past week has been emotionally eventful. I made the very hard decision to leave my membership and communications position at the Mindfulness Association so that I could move my work a bit closer to home.
The Mindfulness Association and its members have been my family and community for the past five years so there is great sadness and fear when I think of leaving; however, this has been juxtaposed with an excitement fueled by imaginings of possibility and adventure. So, it has felt like my emotions have been anything but equanimous.
Thankfully, I have had the support of my practice. And perhaps the most useful element has been knowing what is happening while it is happening and meeting this knowing with kindness and openness. Nothing complicated, no formula- simply being mindful.
Experiencing highs and lows or peaks and troughs has been exhausting. It's almost as if I have been slogging through swirling thoughts, imaginings, fears, anticipation, excitement, planning, agitation, all leaving me in a heap at the end of my day. It's been hard work trying to 'making sense' of it all.
Until I stopped trying. Until I let go and surrendered into the current of happenings with an attitude of kindness for myself and for all those around me, as I navigate this moment of change in my life.
This surrender has been instrumental in my practice. It stops the war. The war in my mind over trying to get things right, trying to make sure I get everything that I want, trying to keep that which I hold dear to me, (in my clutches), no matter what.  When I stop trying, when I let go, when I surrender, a lightness overcomes my body and life unfolds with more peace, acceptance and indeed happiness.
I can remember speaking with a dear friend and colleague a few years ago about what we felt was ultimately most important about our practice. I remember stating that for myself it was to surrender, to just let go. He agreed. He called it something else; which funnily, I can't quite remember his terminology. I only remember the letting go into the bigness of presence.
So this week's challenge is to surrender. Can we surrender to the present moment? Can we surrender to all that which is happening around us? Can we meet each knowing with a kindness and an openness? Can we stop the war? And maybe when we do, we can regain a bit of equanimity.
-Jane