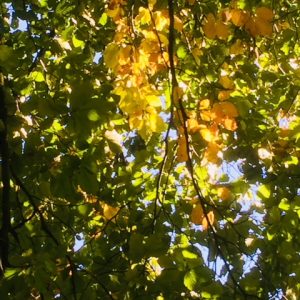 Yesterday my daughter asked me where all of the Autumn decorations were. She wanted to swag the house out in pumpkins and guords. I glanced at the calendar and was surprised- yes, it's October and usually by this time, my house is filled with Autumnal spice. However, this year I haven't felt the need as I have been spending any spare moment that I have outdoors, taking Autumn in. I have been thirsty for the forest. More specifically, I have been completely captivated by the changing season as it transforms the natural world.
I am fortunate in that there is a small forest that sits near my home. And over the past months, I have been walking my Nelly (my yellow lab) through this forest, taking time to meditate as I do so. Our usual routine is to walk briskly to the forest and once we hit the soft forest floor, the mediation begins.
Our pace slows, and our senses open. Sure, the mind wanders, however, like any meditation, I bring my attention back to the felt sensation of my body walking and my breath. I also stop regularly, taking in the towering trees, the soil beneath my feet and the sounds all around me.
We learn Walking Meditation in our Level 1 Being Present course and every time that we do a session on this movement practice, I am amazed by its simple but direct route into the present moment. We are not walking to get anywhere, instead we are arriving with each step into the present moment. For anyone who struggles with sitting, this formal practice is, what I think, the perfect antidote.
Mostly, I wake early and before I take a sip of coffee, my trainers are on and Nelly is shaking with anticipation. However, as the morning light has been arriving later and later, my walks have been happening on my lunch break. What a wonderful way to break up the day! I've watched the sun rise through the trees, I've watched the sun dapple the leaves, I've watched the wind and rain torment their branches but my favourite thing to watch is the wild life.
The forest is home to rodents, rabbits, foxes, badgers and, what I get most excited about, ravens. Whenever I hear the undeniable deep croak of the raven, I usually stop walking and choose a place to simply watch with curiosity and gratitude. All of my worry, all of my planning, all of my trying to get things right simply slip on by as I stop to sit and watch the forest. It is by far the most effective support for my mindfulness practice- and thankfully, this quality of attention seems to spill out into my day upon my return.
So, this week's challenge is to find a place in nature (this could be a city park if you are living in an urban centre or even your garden!) and to spend some time touching in with the season, and the nature that surrounds you. As you arrive, set the intention to practice mindfulness, to engage in Walking Meditation. Perhaps, beginning by taking a moment to sense into your body and particularly your feet as they are planted on the earth. Then noticing the breath, the environment and the slow movement of each step as it lands into each moment.
And keep an eye out for the wildlife!
-Jane
We have Level 1 courses starting this Autumn in Samye Ling (Mindfulness and Creativity), Edinburgh and London! Book your place here.