This is where the children played.  Just two weeks ago I was here with my grandson at a weekly forest school session where a group of children aged 3-6 explored these woods with curiosity and joy.  Dens became havens for pretend play.  Tree trunks were climbed and became castles, rockets, towers and the crow's nest of a pirate ship.
The children of all ages, totally ignoring age gaps, played with each other, without judgement or discrimination. They were like-minded soul mates, embracing everything nature offered them.  They created kitchens out of branches and logs and made mud pies and leaf sandwiches.  They created a shop and sold their take-away offerings to parents (and grandparents) willing to play the game.
A robin regularly came to visit them, and they learned to be still and gained his trust as he sang to them.  They learned to respect the earth and picked up every piece of litter they had left behind.  As he picked up pieces of ribbon trimmings used to make streamers, I heard my grandson say "We need to pick this up because it is hurting the earth".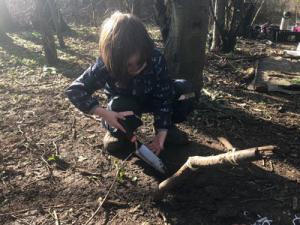 They humanised trees with faces made from clay, being careful, I noticed, to not harm the tree. They made necklaces with pieces of elder which they found, trimmed and hollowed out themselves using proper tools, which they had been taught to use safely.  The pieces were strung with string and painted with natural paints from pounded leaf juice and charcoal.
A favourite activity was to find a long piece of fallen branch and attach long ribbons to one end to make a streamer.  Then they would run, laughing together, up and down and around a hill just outside the wood – with ribbons flying in the wind.
In the middle of the hill was a dip where muddy puddles collected which had to be splashed through like some sort of ritual.
I observed interesting human behaviour where one little girl of just three played damsel in distress time and time again to my grandson of five.  He fell for her charms every time and rescued her from the puddle and, holding her hand, led her safely back to the top of the hill.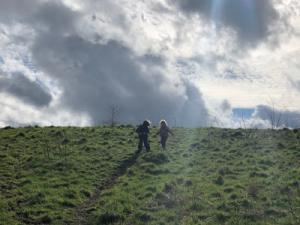 Nearby there is a river where beautiful birds and ducks can be found. The children love walking through the woods and running down the hill to the bridge over the river.  They eagerly look out for passing kingfishers, egrets, herons and my grandsons' favourite – mallards!  I just love it that he has love and respect for the most common birds, just because mallards have beautiful green heads and 'laugh quack' and pigeons have rainbows on their necks.
Their hearts melt as they lovingly gaze at these beautiful creatures they have been taught to respect. Or, maybe their love and respect for nature is innate.
I have trained in Mindfulness, Compassion and Insight in some depth, and now live and breathe mindfulness in my job for the Mindfulness Association and my own practice.  Yet nature and my grandson have often been my most powerful teachers of mindfulness. Children are nothing but in the moment.  Children in nature are totally present.  They are totally engrossed and captivated in their activities, imagination, curiosity and thoughts.
Britain is now in lockdown. By all accounts, human beings are under attack by a force of nature resulting from our cruelty to animals. Ironic.  I am out for my permitted daily exercise, alone, as advised by the government, and visit the place where the children used to play.  I stand here looking at the den and can almost hear whispers of the laughter, chatter and rustle of activity.  If I close my eyes, I can see flashes of ghost like impressions of children moving between the trees.
The robin is there watching me as I sit on a log near their den to meditate a while.  It is so still.  The stillness has a poignance.  I become aware of signs that nature is back in control.  Part of the den has collapsed from the wind. Patches of ground which were flat from being trampled by little feet are now springing back up again.  It seems like an invisible eraser is slowly removing the proof of their presence.  There is evidence of spring, with tiny fresh green shoots poking up through the layer of old brown leaves and twigs. They are totally undisturbed.
Thoughts of my grandson keep popping in my mind.  He knows more about what is happening in the woods in his 5 years than I have ever learned across decades of life. He has an amazing knowledge about fungi. He doesn't just know about them, he reveres them. There are various types in the woods, and he shows them to me with excitement.  He knows their names, whether or not we can touch them, and which ones can be eaten.  He knows which trees the leaves have fallen from and which ones can be eaten when fresh and green.
My intention is to just sit and be present. As I sit with my mindfulness practice of settling, grounding and resting I become aware of the ground through the log and my feet on the ground.  I'm aware of a temptation to attach to my thoughts. I use sounds in the woods as a support for my practice and notice a real sense of trying to come back to being present. As a result, I allow myself to explore the undercurrent of these thoughts and the impact they are having on me for a while.
I realise that I am missing my grandson, who is in isolation with his Mum.  I am missing my partner and friends.   I am missing the routine of life I label as normal. I feel a tightening in my belly and like my heart is being squeezed.  Tears start to pour down my cheeks. It is quite overwhelming. I feel sad and a bit fearful. I am missing freedom.
It would be easy to give up now, but I persevere and recognise that I need to be compassionate towards myself right now.  This compassion extends to everyone experiencing this unprecedented phenomenon of a virus outbreak that has disrupted our lives so much.
Allowing the thoughts and emotions to flow as I observe them feels freeing and calming.  I learn from my grandson and embrace the support of nature around me.  I remember how in the moment he is and try to do the same.  A realisation eventually arises. It is gratitude.  I feel grateful for all the things I had and will have again and set an intention to be more grateful in the moment.  Always in the moment.
Above all, despite reading and learning about being in the present moment and making it my core practice, I suddenly realise its power.  The power of fully living my experience right now.
I drop back into my practice and allow myself to just rest.  I can feel the ground and nature supporting me.   Sure, it's different – but can I allow myself to 'know what is happening when it is happening, whatever it is?'.  I think I just did.
As I bring myself back from my practice and take in the stillness of the woods once more, I watch the beauty of beams of sunlight painting patches of brightness on the dark earth.  It makes me smile and I feel more hopeful.  Impermanence comes to mind and I suddenly remember something Choden taught on a course last year and wrote in the accompanying manual.
 "In the context of knowing the impermanence of all phenomena in our world, including yourself, you may like to ask yourself, 'What is the most important thing in my life that I now want to focus on?' If we could train our minds not to focus so much on making plans for the future, we could stay in the present much more easily and thus meditate a lot more easily".
My choice is to learn from the children and focus on being present and embracing the richness of nature which surrounds me, with gratitude.
How about you?
Weekly Challenge
I invite you to take a moment to check in with how you are right now.  Notice how you feel in the present moment.  Become aware of how the impact of the current situation we are experiencing is affecting you.  You might want to use the Watching the Undercurrent practice on our free app to do this.
Are you able to allow yourself to be with whatever is happening?
I'd love to hear about your experience.  Please do leave a comment after this post or write to me personally at membership@mindfulnessassociation.net.
Take good care
With warmest wishes
Jacky
Jacky will be co-teaching on the Level 2 – Responding with Compassion with Heather Regan-Addis in the Summer.
We'd love to see you there.
Jacky has contributed a chapter to the Mindful Heroes Book entitled "Turning Empathic Distress into Compassion – A Hero's Journey for Family Carers".  You can hear an extract from the chapter where she talks about the results of her MSc Studies in Mindfulness on Compassion & Family Carers. You can download a free sample of Jacky's chapter here.