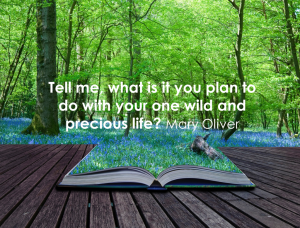 This winter has felt long to me, and very, very cold.  The turn inwards – the phase of 'being' – during the more reflective seasons of autumn and winter has felt so complete, and my experience of hibernation so habituated, that I was beginning to wonder if I would ever again know and feel the complementary sense of outward-turning – the phase of 'doing'.  As the tender shoots of new growth are starting to emerge from the ground, a feeling of relief has gently washed over me, almost as if the sun is finally rising and casting its warm glow on my skin after a long, cold night.  New ideas are beginning to form and take shape; creativity, slumbering in me, is awakening once again.  As spring approaches, it's time to reflect upon what it is that each of us wishes to grow this year in our fertile garden of possibilities.  Where will our intuitions take us?  What will we choose to do with our one, wild and precious life?  As I sit here and ponder this question for myself, I invite you to do the same.
Right now, I'm preparing to gather results of my PhD research, looking into how mindfulness and self-compassion may fit into the education system and how they might affect secondary school pupils' experience of schooling.  For this research, I created the 'Mindfulness Based Living Course for Young Adults (MBLC-YA) for the Mindfulness Association, and last year we trained our first cohort of teachers. What an experience it was to connect with those courageous people on that teaching retreat.  I say courageous because teaching self-compassion to teens in schools in the UK is very new.  We are essentially breaking new ground!
Our children and teens are struggling – perhaps more than ever before – because the challenges they face are unprecedented; it can be argued that the way we live our lives, increasingly permeated by social media, is proving progressively more difficult for young minds to cope with.  Currently mothering three teens, I'm able to observe how difficult it is for them to navigate their way in the world at this point in our evolution.
To be completely honest, teaching mindfulness and self-compassion to teens scares me.  I'm not sure that I would be entirely human if it didn't!  When we learn mindfulness, we learn to 'work our edge' and be curious about that which we would normally automatically recoil from.  We want to stay nice and comfortable, don't we, because it feels safe?  Yet I remember being profoundly moved by something that Pema Chӧdrӧn said in her book, 'The Places that Scare Us':
"May we continue to open our hearts and minds, in order to work ceaselessly for the benefit of all beings.
May we go to the places that scare us.
May we lead the life of a warrior."
When I'm standing in front of a class, feeling my feet on the floor, noting the flow of my breath and looking around the room at all of those young faces, I know how easy it would be to see myself as 'other' than these pupils, yet I can also remember my own struggles as a teen.  Reconnecting with that inner teen brings me back into that 'me too' space.  I wonder what their lives are like and what struggles they face. I have a feeling that we share so many of the same struggles, because – quite simply – we are human.  I know that our journey together won't always be easy and that my ego may feel threatened at times. Yet it feels important – so very, very important – to gently sow the seeds of mindfulness and self-compassion with a wish that those seeds may one day, at the appropriate time, take root and flourish.  After all, the world sorely needs more loving presence.  Will you join me at our next MBLC-YA teaching skills retreat at Samye Ling, from 17th to 22nd July 2018?  Together we can learn more about going to the places that scare us ?.
With much love,
Heather (Bond) x
For more information on the MBLC-YA retreat: click here
To visit our website: please click here
To join our membership: please click here
Follow us on YouTube: please click here
Follow us on Facebook: please click here
Follow us on Instagram: please click here