Hello fellow Members,
Jane has asked me to say something about the research that we're carrying out on the Everyone project, which I've been spending some time on over the last few weeks.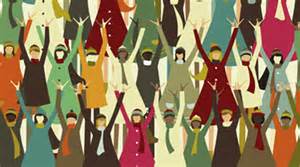 As I'm sure you remember, the Everyone project offers eight week Mindfulness Based Living Courses (MBLC) to groups who may not otherwise be able to access mindfulness courses, for financial or other reasons.  This is funded by the Mindfulness Association and the Hart Knowe trust, and the first eleven courses were run at the end of last year, with courses being run with groups such as carers, people on low-incomes, and refugees.
In conjunction with these projects, we're carrying out research to examine the impact that attending these courses has had on people's lives.  We're doing this through asking people to fill in questionnaires before and after the courses, together with carrying out post-course interviews with some of the participants.  The questionnaires that we're using are ones commonly used in academic research, to allow us to directly compare our results with those published in other studies.
I've just finished analysing the results from the first group of Everyone projects to be delivered, and this has shown statistically significant increases in factors such as well-being and mindfulness and decreases in stress levels in participants after the course, compared to at the start of the course.  This is obviously fantastic news.  While I'm sure that we're all aware how good the Mindfulness Association courses are, it's great to have some facts and figures that we can use to back this up.
In the next few weeks, the second wave of twenty-nine Everyone projects will begin, and I'm presently busy sending out blank questionnaires to the course tutors.  These projects will enable hundreds of people to attend Mindfulness courses who otherwise might not have been able to.  Again, through carrying out research on the impact of attending these courses, we aim to get further information on how participants experience our courses; information that will be used for future grant applications to help the Everyone project develop, as well as hopefully contributing towards more academic publications.
-Alan Hughes
For more information on The Everyone Project: click here
To visit our website: click here