After the conference the MAHQ seems quiet, as we get back into the usual routine of sending out course timetables and manuals, organising room hire, answering e-mails on everything you could imagine to do with mindfulness, and a host of other little jobs that generally keep us busy.  Writing this blog for example!
Overall, I think there's a general feeling of achievement – and relief – within the admin team, as the feedback that we've had following the conference has been very positive.  I think that people really enjoyed and benefited from it, which for us makes the effort worthwhile.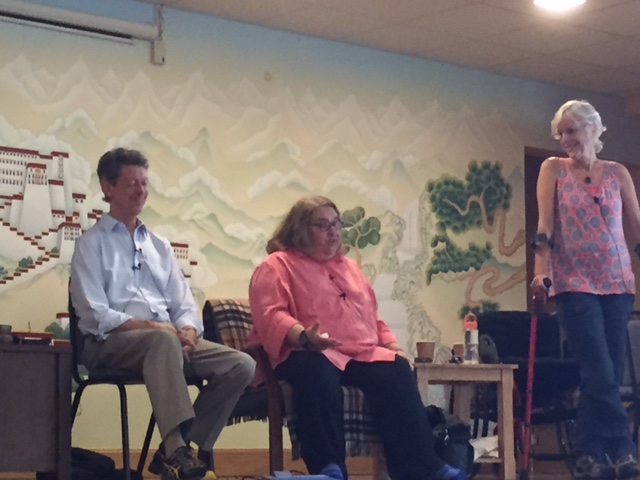 For me, there were many highlights from the conference, most obviously meeting up with old friends that I've been on courses with, and people that I've taught and e-mailed over the years.  Apologies if I don't always remember what I've said to you in e-mails, as we do send out quite a few.  My heart always sinks slightly when somebody starts a conversation with "About that e-mail you sent me last November….".
The other highlight of the conference for me was the keynote talks from Sharon Salzberg, Rick Hanson, Vidyamala Burch, Paul Gilbert and Lama Yeshe Rinpoche.  I thought they were all excellent, and inspiring in different ways.  I must admit, I'm a bit of a fan of Sharon Salzberg in particular and have read a few of her books, and seen her teach before.  I did manage to have a one-to-one chat with her not long after she arrived, although this mainly focused on the practicalities of travelling from Samye Ling to London.  I feel that she's a really experienced practitioner, and very embodied teacher.  I also love her rather dry sense of humour, which seems to come as a surprise to people who've never heard her teach before.  Basically, she's the sort of teacher that I aspire to be like (Although I do appreciate a good power-point slide!), and I now have an autographed copy of her latest book, "Real Love", sitting on my bedside cabinet.
One thing that really struck me about all the keynote talks, as well as the MSc presentations, was the importance of acceptance, kindness and compassion in relation to secular mindfulness.  Of course, within the MA we emphasise these from the beginning of our training (for more information on our training, click here), so it sometimes surprises me how novel this can be to some people.
For anyone that wasn't there, all the talks and presentations were recorded, and we hope that they'll all appear on the membership area of the website soon, so I would definitely recommend that you check these out as soon as they're available.
-Alan
To visit our website: please click here
To join our membership: please click here