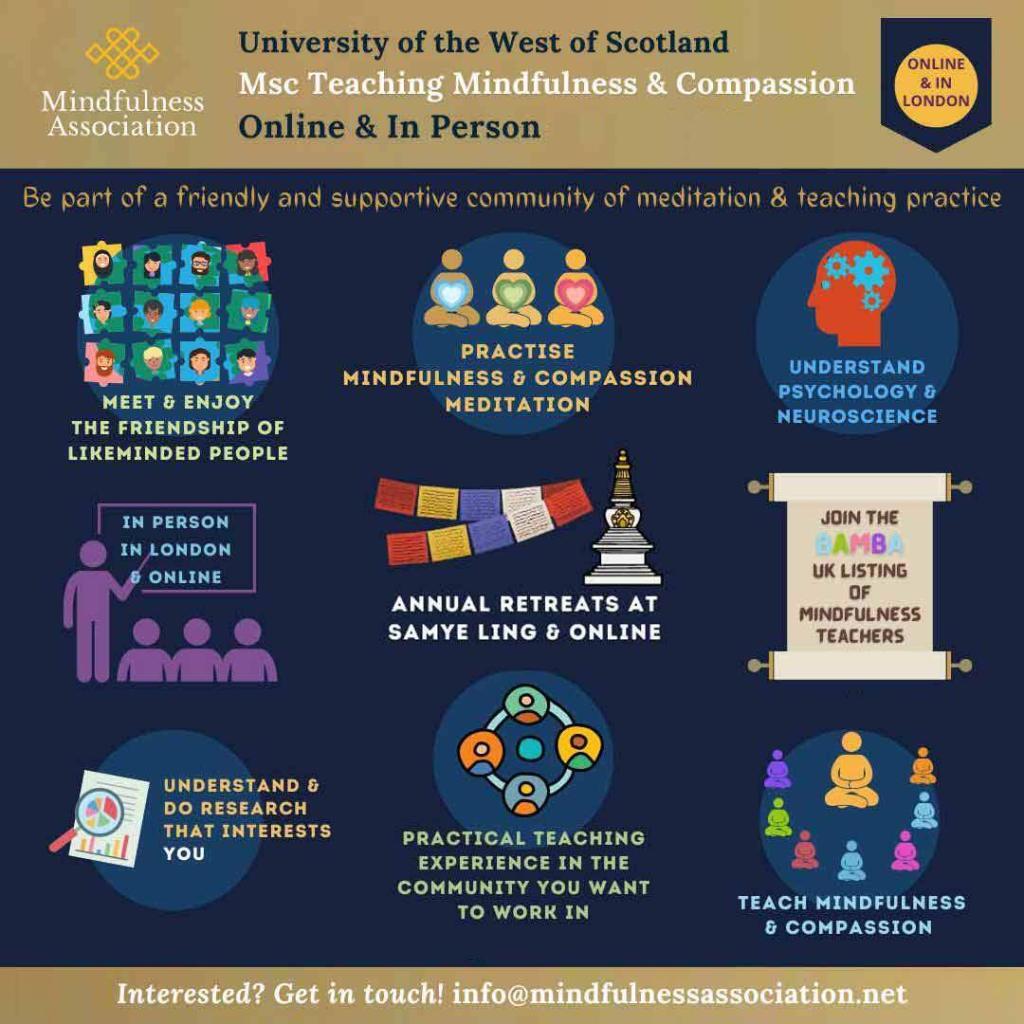 Why Now Is The Time to Begin MSc Mindfulness & Compassion
There is a growing awareness of the utility and benefits of mindfulness and compassion across a range of settings and therefore, a recognised demand for suitably qualified teachers. It is important to meet this demand with appropriately validated mindfulness teacher training courses which comply with best practice across the UK and overseas.
This is the first post graduate course of its kind in the south of England.  The University of West Scotland London campus provides the perfect location coupled with its flexible learning approach. There is also the opportunity to study online.
Affordable
Competitively priced, this course is affordable, with the lower costs of education in Scotland and is payable in instalments.
Unique Opportunity
This post graduate programme is the only one in the UK providing a Mindfulness teacher training and a Compassion teacher training with an academic qualification.
8 Week Mindful Based Living Course
One of the requirements of this Masters Degree is to have completed an 8 week Mindfulness Based Course.  Join our 8 week Mindfulness Based Living Course starting Mid October.  Write to info@mindfulnessassociation.net for more information and to book the course.
Learn More
More information can be found on the University of West Scotland website, including how to apply.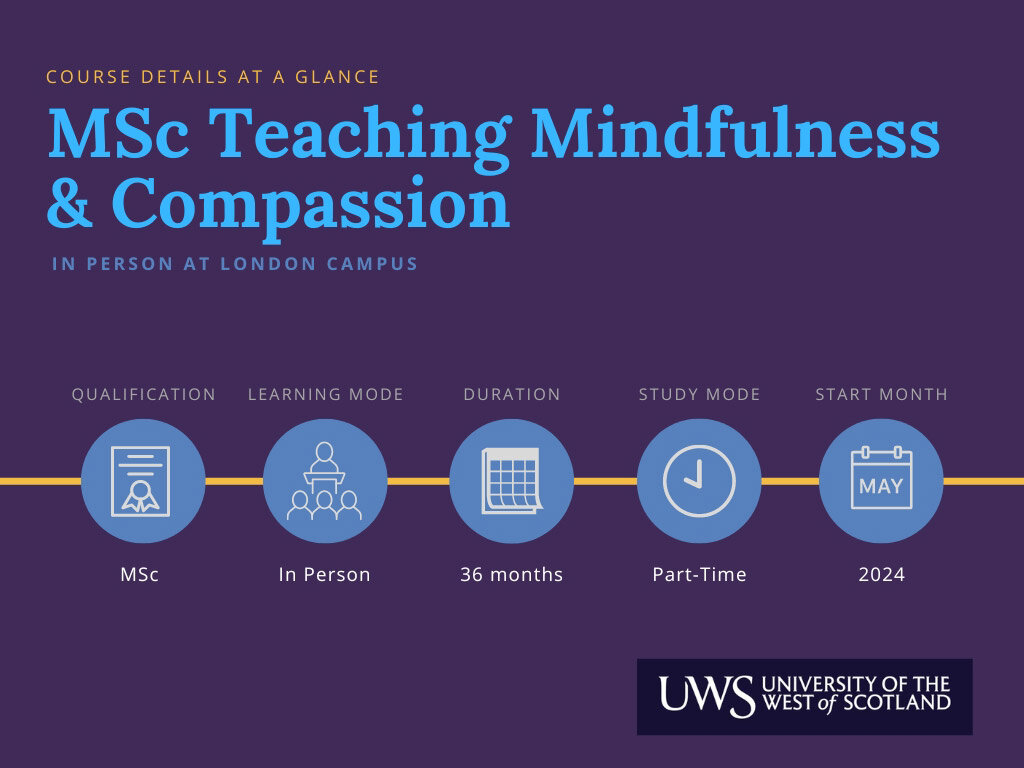 This is an exciting partnership between the Mindfulness Association and the University of the West of Scotland, which will be taught at their London campus and online
The course has three key aims:
To provide students with the psychological context to evaluate and critically reflect on Mindfulness

To equip students to teach mindfulness and compassion

To qualify students to register on the UK Listing of Mindfulness teachers
Whilst learning to research and teach mindfulness and compassion you will develop your understanding of the relationship between psychology and neuroscience, mindfulness and compassion and also develop and deepen your own practice, which can prove to be transformational and life changing.
Throughout the course you will develop evidence-based knowledge of psychological wellbeing, biological psychology and consciousness and the relationship of these concepts to mindfulness and compassion. You will frequently reflect on the links between these concepts and your own teaching and practice.
Testimonials & Reviews
What People Say about our existing Masters Level Training
"The MSc gave me the ability to think about mindfulness in a theoretical way.  The exploration of practices at a deep level and then having to write and journal created an amazing rich space of learning"
"Amazing sense of community. Really grown together. Wonderful journey"
"Working alongside like-minded people and having support of group. Materials easy to work with which allowed for automatic unfolding"
"I had mindfulness practice for long time but what was new for me was the approach and compassion. That's why I chose MA because I wanted to study mindfulness, but mindfulness is just part of the big picture. Compassion was transformative for me"
"Practicing mindfulness for a few years and needed more structure and support to expand and understand my practice. Wanted to take practice to another level. In my work I wanted the credibility of having a degree.  Real strong link with professional context"
"I had a good practice – interested in using mindfulness in my life and profession. I didn't want to go the clinical route and recognised how important compassion is. Life changing. Much surer practice, brought me home to my body and a network of relationships that are most precious in my life"
"Studying with the Mindfulness Association at post graduate level gave me the interest and confidence to do the teacher training. Practice has been transformational. People I have met are wonderful. Confidence and belief I could do it"
Studies in Mindfulness - MSc
PG Cert. Psychology and Mindfulness
Year 1 includes a first module on Mindfulness Practice and Psychological Wellbeing and a second module on Teaching Mindfulness and Research. At the end of this students exit with a Post Graduate Certificate and be qualified to integrate short mindfulness sessions into their existing work with clients
Module 1 – Mindfulness practice and psychological wellbeing 
In this module students will review the concepts of mindfulness from both practice and academic perspectives. The module combines an introduction to the Mindfulness Based Living Course (MBLC) that the participants, on graduating, will be able to teach the themselves. There is also an introduction to psychology and research enquiry. Aspects of Health Psychology will be central to this including topics such as stress and wellbeing. Students will also be required to engage critically with the relevant research literature.
Module 2 – Mindfulness teaching and Research
The module covers two key domains of mindfulness teaching – guiding Mindfulness practice and conveying course themes through interactive enquiry. Students are introduced to generic mindfulness teaching skills by guiding short core practices and leading interactive enquiry after the practices. The module includes an introduction to research methodology (quantitative and qualitative methods) to allow students to engage critically with literature including research on teaching Mindfulness. The relationship between behaviour and biological processes (Biological Psychology ) is explored and will enhance students understand of approaches to research and data collecting. This will be integrated with the development of research methods.
A mid year retreat will be held over the summer – between a first semester starting January and a second semester starting September.
PG Dip. Mindfulness and Compassion
Year 2 includes a third module on Mindfulness Teaching, Cognition and Consciousness and a fourth module on Teaching Compassion and the Research Process. At the end of this students exit with a Post Graduate Diploma and be qualified to teach the eight week Mindfulness Based Living Course (MBLC) and the eight week Compassion Based Living Course (CBLC) to groups.
Module 3 – Mindfulness teaching, cognition and consciousness
Students are introduced to a range of aspects of Cognitive Psychology (e.g. attention, memory, meta cognition) and review aspects of mindfulness within this framework. The module will allow students to explore aspects of cognition and consciousness and ground this within psychology theory.
This module introduces students to skills required to teach the MBLC curriculum and gives the participants the opportunity to lead sessions and observe the delivery of the MBLC curriculum. Training involves reflective practice based on feedback from self, peers and tutors. Students will learn to give feedback within the framework of the six domains of the Mindfulness Based Interventions: Teaching Assessment Criteria (MBI-TAC).
Module 4 – Teaching Compassion and the research process
This module introduces the students to the skills required to deliver the Compassion Based Life Course (CBLC). Training involves reflective practice based on feedback from peers and tutors. Students will learn to give feedback within the framework of the six domains of the Mindfulness Based Interventions: Teaching Assessment Criteria (MBI-TAC).
The module will provide students with the opportunity to develop their research and critical evaluation skills. A key activity will be the completion of a research project. The project will allow students to develop their understanding of research methods within a psychological framework. This will underpin student's development toward their final master's dissertation.
A mid year week long retreat provides the opportunity to consolidate practice and academic learning. Completion of a residential week is a pre-requisite for students wishing to be registered on the BAMBA UK Listing of Mindfulness teachers.
Between modules 3 and 4 students will teach a first MBLC course (with journalling and supervision) to clients and this course will be the focus of their research activity in year 2.
M.Sc. Mindfulness and Compassion
Year 3 includes a fifth module on Assessed Practice and Research Project. At the end of this students exit with a Masters degree in Mindfulness and Compassion, including an assessment of their competency in teaching the MBLC and will have completed all the prerequisites to join the UK Listing of Mindfulness Teachers.
Module 5 – Assessed Practice and Research Project/Dissertation
This final module brings together the practice and academic learning from the previous modules by integrating the development of training and critical evaluation skills. Students will be required to identify a research project and will be supported by their supervisor in data gathering/analysis, ethical clearance and the production of a final report.
During T1 and T2 students will be required to demonstrate the development of their practice in accordance with the Mindfulness Based Interventions: Teaching Assessment Criteria (MBI-TAC) (Crane et al, 2012). Students will deliver a second MBLC course to their client group during this course, keeping a Mindfulness teaching journal, engaging in weekly group supervision with an approved supervisor and videoing designated sessions of the course for assessment. Student will be required to critically reflect on group dynamics, relational skills and maintaining the group learning environment.
A mid year retreat will be held over the summer.
The Mindfulness Association
Our mindfulness courses provide an in-depth, personal, experiential practice of mindfulness that are part of a lifelong journey.  We learn how to be present, respond with compassion and see deeply into our thoughts, feelings and behaviours. This three-tiered approach enables you to embody your practice as a way of life. We also provide:
Mindfulness teacher training

Compassion teacher training

Annual mindfulness practice retreats

The opportunity to study mindfulness in depth on the MSc Studies in Mindfulness in partnership with The University of Aberdeen and The MSc Mindfulness & Compassion in partnership with The University of West Scotland.

Weekend workshops for Continued Professional Development for Mindfulness teachers. 
You may be a beginner or have practiced mindfulness with another organisation.  Either way we have courses to offer you.
Our training is based on the work of Rob Nairn. Rob is one of the world pioneers in presenting meditation training in a way that is accessible to the Western mind. He was asked to teach meditation by the Dalai Lama. His experience of over forty years of teaching meditation to Westerners has enabled him to develop a unique secular training in mindfulness, and so the Mindfulness Association was created to support this. 
We are one of the top mindfulness training providers in the UK. We have been delivering 100s of compassion-based mindfulness meditation courses over 10 years across the UK and Europe. 
All our courses are secular and draw from a broad range of disciplines, including neuroscience, evolutionary psychology and Buddhism. 
The Mindfulness Association has 10 years of experience of delivering courses in the UK and Europe. 
All our tutors are very experienced and knowledgeable compassion-based mindfulness and practitioners.  
We have a membership providing our practitioners with ongoing support. 
Our tutors and courses comply with the UK Network for Mindfulness-Based Teacher Training Organisations – now BAMBA who oversee the quality of mindfulness-based training in the UK. 
After completing this course you will be able to attend:
Courses for Mindfulness Teachers Continued Professional Development (CPD)
Insight Training – Level 3 – Seeing Deeply
Mindfulness for Life Programme.
The Mindfulness Association are committed to supporting your mindfulness practice for life.