I am on the beautiful Holy Isle this week delivering the year end retreat for the first years of the University of Aberdeen's MSc in Studies in Mindfulness. There can be no better place on the planet to practice mindfulness!
It is a pilgrimage to get here. A wonderful journey, at each stage meeting up with more of our fellow travellers. The boat ride was a bit wet this time – but well worth it!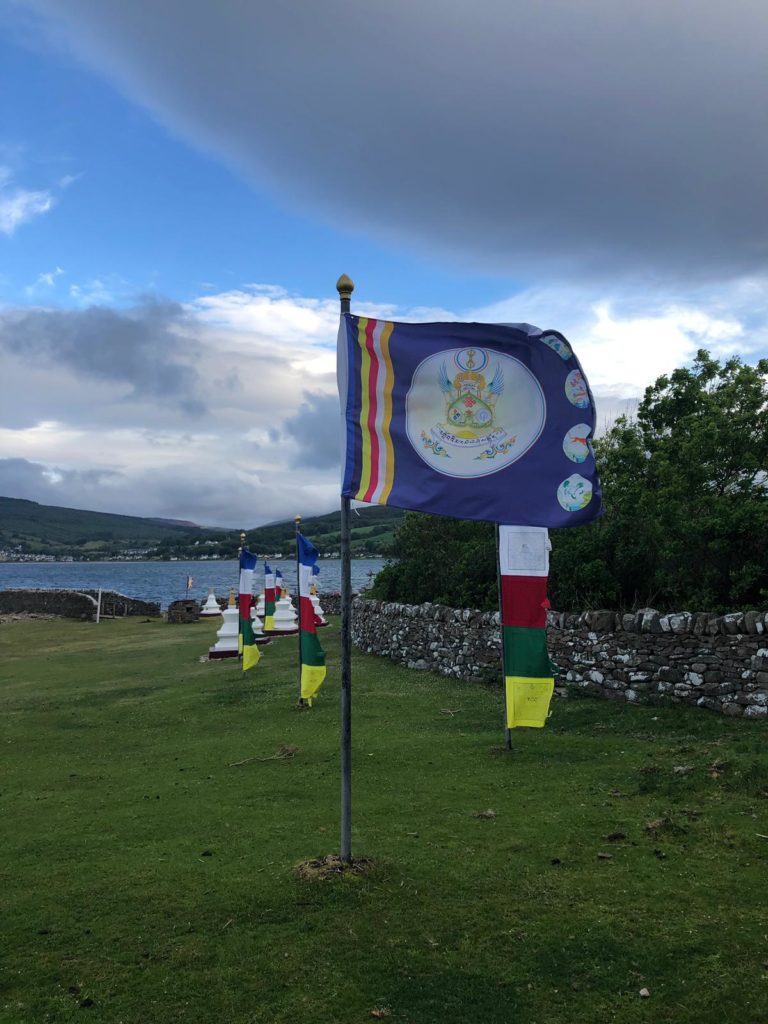 We have been delivering some teacher training so far this week. Training the students in how to guide practices and lead mindful enquiry from their own embodied practice.
The training seems to have landed well, with the students beginning to trust that being present as they are is what teaching mindfulness authentically is all about. It is not about learning and regurgitating a script. It is about doing the practice ourselves and then guiding others from our own practice.
The mindful enquiry is the same. It is not a discussion about what has happened in the practice. Instead it is an exploration of our experience of practice led by the questions that emerge by themselves from the facilitator 's embodied presence.
It is beautiful to see the trust and confidence of the students growing. The dawning that they know how to do this from their own many hours of personal practice.
We have just sat outside, in the sun, by the sea, guiding each other and learning from having a go. Lots of laughter, with a few nerves.
The island is beautiful. Full of singing song birds and crying sea birds. This morning on my walk I met wild ponies with a beautiful foal, Bronze Age sheep with their little brown lambs and a long haired white goat with long curly horns.
Many of the birds here are tame, with chaffinches and blackbirds visiting us to pinch bits of our dinner. The gardens are full of beautiful flowers and the sky is magical in its myriad and changing shades of grey, purple and blue.
The weather has mirrored our minds, sometimes stormy and sometimes calm and sunny. Changeable.
One of our patrons, Lama Yeshe Rinpoche, is clear in his advice about teaching mindfulness. First, we must practice it ourself, until we see ourselves transform. Once we have seen significant changes within ourselves, then we have something authentic to share with others through the teaching of mindfulness.
I see the transformation this week. The students that I have known since September are much kinder to themselves. They are more present and insightful. They have a growing confidence in themselves, as they are. Recognising that the human condition is not one of perfection, they can let themselves off the hook and begin to be OK with who they are. They are more able to flourish and enjoy their lives.
I know several have them have experienced significant revelations, or been through significant life experiences that through compassion based mindfulness practice have transformed their relationships with themselves and with those around them.
The highlight of the week for me will be the final sharing in the full group. Here we share how the mindfulness and compassion training has impacted us and make a pledge of compassion to take forwards in our lives. I am always moved by the courage of our students in this sharing and inspired by their aspirational pledges.
As I sit and hear about the transformational effect of this Masters program I feel it is a job well done! Another step forward in my own aspiration to help relieve the suffering and fear in myself and in those around me. When we suffer less and aren't scared we can make such a positive contribution to this world of ours. When we train to teach mindfulness we can make a significant difference to so many lives.
Tomorrow we revisit our compassion training and then for the last two days of the retreat we move on to insight training. The training in insight in the second year requires the foundations of mindfulness and compassion from the first year.
So if you fancy joining us on the retreat next year, we are recruiting our tenth cohort of students to begin in September. Here is the link. If you have a first degree or equivalent professional experience, then you can join us. You might be quite new to mindfulness or an experienced practitioner, either is fine – come practice with us!
Begin transforming your life and the lives of those around – for the better!
Kind Wishes
Heather
Heather is one of the teachers on the mindfulness, compassion and insight modules of the MSc Studies in Mindfulness. Some of our MSc graduates will be presenting their research at our upcoming 2019 Conference.