I was delivering the first weekend of Level 1 Teaching Skills – Introductory Teaching Skills at Samye Ling at the weekend. I found myself in the tutorial group feeling the palpable anxiety of the group who were each delivering 3 minute extracts from the Mindfulness sitting practice of settling, grounding resting and support (SGRS). Although I was not anxious myself, I felt this as a contracted, almost painful, solid tingling throughout my upper torso. In the middle of this feeling, my heart felt open and tender, deeply touched by the courage of the group to feel their fears and guide their sessions anyway.
There was no assessment or personal feedback in this group and all in the group were open, allowing and kind. We agreed that the only person who would be judging us was ourself! Generally, our strongest critic!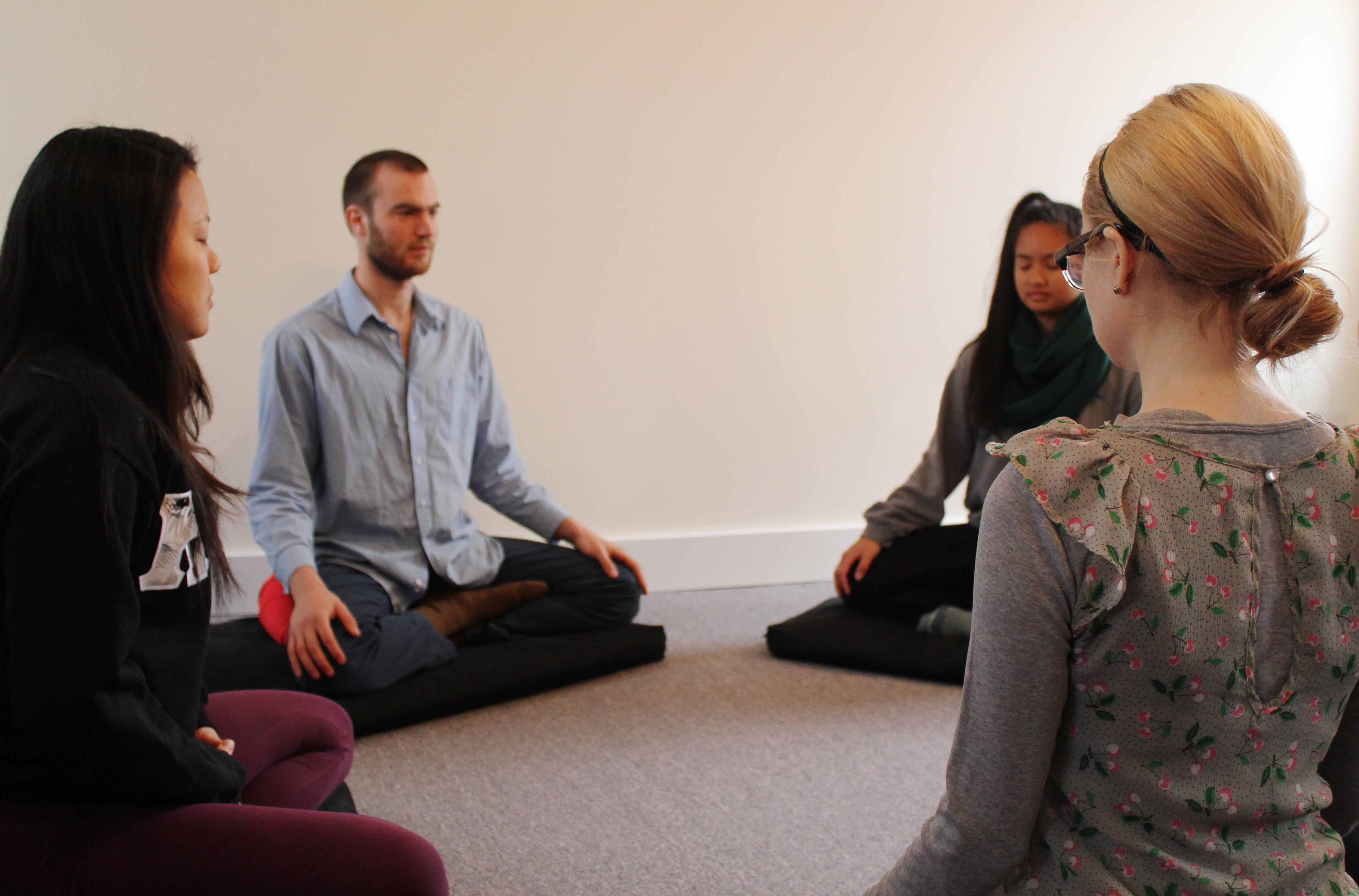 We also, explored how in teaching mindfulness we are showing up as ourselves, just as we are in that moment. This is different from most other work, where we tend to hide behind a persona – when I was a lawyer I had my professional, organised, lawyer persona and when I was a yoga teacher I had a yoga teacher persona – a bit tranquil and wafty! But when I teach mindfulness I am just me, sitting in front of the group, as present as I can be. So this makes us even more vulnerable when we train to teach mindfulness, as it is our truest self, open and present that we are offering, and that we feel could be potentially judged.
So I am deeply touched by the courage people have to teach. The first thing we explore on the weekend is our motivation for teaching mindfulness. And for the majority it is a heartfelt wish to share the transformative benefits they themselves have experienced from their own practice. Again, I find this deeply touching and am always struck at the start of the teacher training by the potential within the room: the potential to touch many other people with the transforming power of compassion based mindfulness. It makes the hairs on the back of my neck rise up.
I was working with amazing teachers, Chloe, Kristine and Alan. Chloe led a beautiful session on embodiment and this really landed with the group who by the end of the weekend understood in their hearts the power of staying in touch with the feeling world of the body and teaching in connection with this. Kristine led a wonderful session about the way we rely on our personal practice to support our teaching practice, using the model of Gregory Kramer's insight dialogue – and the penny dropped – by the end of the weekend the participants were doing the practices themselves and guiding the rest of the group from their experience of their own practice. Alan led a very powerful session on the person of the teacher and a moving circle of teachers practice in which we bring to mind the teachers in our lives who have inspire us and imagine taking on their good qualities.
When I guide a short practice at the beginning of a session, this is what I do, I bring to mind my teachers and imagine they are here with me, lending me their qualities of kindness, patience, strength and clarity. This gives me the strength and courage to just be me, present and open, in front of the group – I am not on my own but have my teachers there behind me. When Alan led this practice, many people, including myself, were moved and there was hardly a dry eye in the room. It can feel a little (or a lot!) overwhelming to step into those qualities in our self, that we admire so much in those who inspire us. But this is part of the process of becoming a teacher of mindfulness. We learn to step into our own power – to inhabit our own good qualities – so that we can then share them with those that we teach. Scary stuff!
Here is some feedback from the weekend:
'It has allowed me to gain confidence in my ability to teach in the future and to empower me to do that in my own way'
'The support and friendship amongst the attendees is fabulous and hugely encouraging'
'As always the braveness of everyone sharing, good and bad, makes me grateful to be part of the world'
'Perfect level of challenge without being overwhelmingly scary! Learnt so much!'
'In particular, the emphasis has been on finding our own teaching style, which feels empowering'
If you have practiced mindfulness for a while and feel it has transformed your life for the better, then you have something authentic to share with others. So why not join our community of teachers and learn to teach ?
One of the most challenging elements of teaching mindfulness is that we are not there to give people a nice experience or to be liked or approved of by the group. We are there to facilitate, which means holding boundaries in order to keep the group safe and this can sometime mean saying difficult things within the group. If you struggle with this then we have a CPD weekend for you! Based on the 'Courage to Teach' work of Parker Palmer and led by my dear friend Barbara Reid, supported by me. Barbara has trained in this approach for many years and in my experience teaches with totally honesty and integrity. This weekend is an exploration of who we are as teachers and how we can find the courage to show up fully in class, how our sense of who we are shapes how we relate with those in our classes and how we sustain this sense of who we are so that we can show up wholly and with integrity.
This is our CPD weekend in London in October called 'The Courage to Teach: Bringing Whole Heartedness to our Mindfulness Teaching' . I can't wait! I feel I will learn so much from this exploration. If you are a mindfulness teacher or are learning to teach, why not join us?
Kind Wishes
Heather