Next week, after a journey that began that began at the start of 2016, I shall graduate with a PhD in Education from the University of Aberdeen.  I guess the journey really began in the autumn of 2013 when I embarked on the Masters programme in Studies in Mindfulness with the Mindfulness Association and the university.  I was so anxious back then about getting back into studying – it had been 20 years since graduating with a Bachelor's Degree in software engineering.  You will no doubt note that the parallels between the science of software engineering and the social science of mindfulness and compassion are not immediately apparent!  I feel as if I'm standing here looking back and scratching my head, wondering how on earth I managed to get here.  Undoubtedly, I wouldn't have done without the support of the Mindfulness Association and my endlessly patient husband and children, but there was a far greater support even than this…
When we set out on a journey, we generally have some idea of what it might entail, but we prepare ourselves for the adventure of it – the opportunities to meet the unknown with curiosity and learn about ourselves as we navigate the unexpected. Had somebody told me at the start what my PhD journey would entail, I doubt that I would have had the mental fortitude to set sail, since the whole would have been too overwhelming.  Instead, moment by moment I navigated the uncharted territory that a PhD necessarily involves and now here I stand, looking back on my travels and realising that it wasn't just a journey of studying of mindfulness and self-compassion, it was a journey of living them.  Essentially, my practice was the ship that got me to the harbour, having navigated some very stormy seas indeed!
As part of my PhD – a mixed methods study – I created the adolescent version of the Mindfulness Association's Mindfulness Based Living Course (MBLC) which is known as the 'Young Adult' version (MBLC-YA) for 11-18 year-olds. I taught the curriculum to over 200 young people in Scottish secondary schools to see how it would affect them and to explore what the supports and barriers to learning self-compassion in school might be.  Little did I realise how much my work with those young people would affect me; it feels as if my heart expanded to make some space for them and the experience will stay with me forever.  I am so deeply grateful to the pupils, teachers, and support staff who made it possible for me to research the effects of the MBLC-YA in their schools and who allowed me to enter their lives for a short while.
The quantitative results of my study were strange and (at least to me) fascinating.  The qualitative results were in many respects heart-warming and in others, a cautionary tale.  I shall say no more here but if my work interests you, then please feel free to download a copy of my thesis from heathergrace.co.uk/writing.
Here are a few quotes from the young people who participated in the course: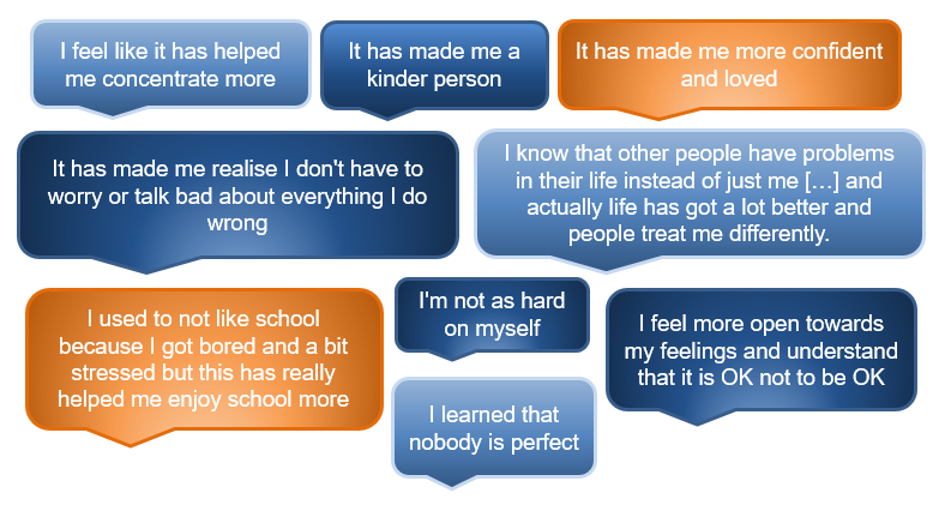 You can also read more about the journey of my studies, should you wish to, in Chapter 6 of Mindful Heroes – stories of journeys that changed lives.
I shall bid you farewell now, but if you're considering setting sail on the journey of a Masters or PhD then I say to you: if I can do it, then anyone can!  I humbly implore you to set sail if you dare, and trust that your practice will guide you to safe harbour.
With much love,