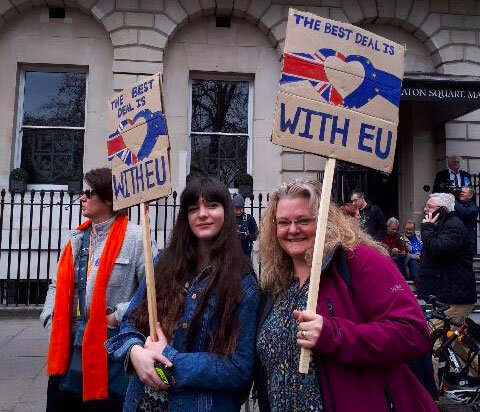 On Saturday I travelled from Scotland to London for the People's Vote march. I stopped on the way in Manchester to join my daughter Jen and my friend Jan. This is part of my commitment to 'Engaged Mindfulness'. By turning to face this sometimes overwhelming issue, and from my compassionate motivation, I marched today for the benefit of my community.
I have never been on a political march before. But as a committed 'remainer', I have felt increasingly disempowered, by what has been unfolding in Government and Parliament and by mainstream media coverage. By joining the march I am able to look future generations in the eye and say that I did what I could to stop Brexit from limiting their opportunities.
It was a very heart warming experience to amble along the London streets with such a good natured group of like minded people.
I was surprised by how 'normal' the people I was walking with looked. I imagined walking with people who looked more overtly political. My fellow amblers would not have looked out of place on any high street – at least without their blue wigs and banners.
I also thought the crowd would be predominantly young, but to me all age groups looked equally represented.
My daughter had made two beautiful banners. She chose to go with a compassionate theme, for my sake.
I am so very glad I went. I feel more hopeful and empowered than I have for a long time.
The values I marched for are: peaceful relations with our neighbouring counties; international collaboration on urgent global issues like climate change, security, human rights and equality; and the opportunities to live, work and love freely along with people from as wide a community as possible.
Several of my friends and colleagues originate from other countries within the EU. I have worked a lot in other EU countries. In fact, I was teaching mindfulness in Italy at the time the 2016 referendum results were announced. I feel that I am a European. You just have to look at a map!
And it felt great. My smile beamed out all day. Doing something to make a difference was awesome.
So if you feel somewhat overwhelmed by the state of the world and want to resource yourself so as to be able to contribute to making a difference, there is no better preparation than our 'Engaged Mindfulness' weekend at Samye Ling in May. This work supports us to live our values and walk our talk. A great source of meaning in these lives of ours and a recipe for happiness.
Kind Wishes
Heather