This topic has interested me for some time. How do we live well and in the living well prepare ourselves to die well, support those that we love to die well and navigate our own process of bereavement when we lose a loved one? My own Buddhist practice of reflecting daily on the 'Four thoughts that change the mind' has proved extremely helpful in this respect. For example:
" Second, the world and all it's inhabitants are impermanent.
In particular, the life of each being is like a water bubble.
It is uncertain when I die and become a corpse.
As it is only the truth that can help me at that time, I must practice now with diligence."
"Third, at death there is no freedom, and karma takes its course.
As I create my own karma, I should therefore abandon all unwholesome actions,
and always devote my time to wholesome actions.
With this in mind, I must observe my mind stream each day."
This has made me realise that anyone I love could die at any time, as could I. This had made me more appreciative of the people with whom I share my live, because they are here today. It has also made me more appreciative of my own life and motivated to live as fully as I can for the benefit of myself and those around me. Also, I believe that when I die, or when someone I love dies, that it will be less of a shock and I will be better prepared to support myself and them through the process – time will tell.
The question of approaching death has been a taboo one in our culture and society and so potentially makes communicating about death and dying more challenging. However, it makes it more of an important question to address because so much suffering is caused by culture and society's attitudes of denial and fear. Also, how to make the Tibetan Buddhist wisdom around death and dying more accessible to those of all faiths and none.
This is the challenge that faced myself and my collaborator Jacky Seery in developing this course. We have drawn a range of different sources from experts in the field of approaching death skilfully, such as Stephen Levine and Bronnie Ware, as well as research papers in the field. Then we have applied mindful reflection to topics such as regret, gratitude and our intention and motivation if we had a year to live. We have also drawn in compassion practices, such as tonglen, compassionate image and the self-compassion break that can support us in turning towards that which is difficult with kindness and care.
To further my own knowledge in relation to the suffering of old age, sickness and death, I am training as a hospital chaplain and currently have a placement working two days a week in a large teaching hospital.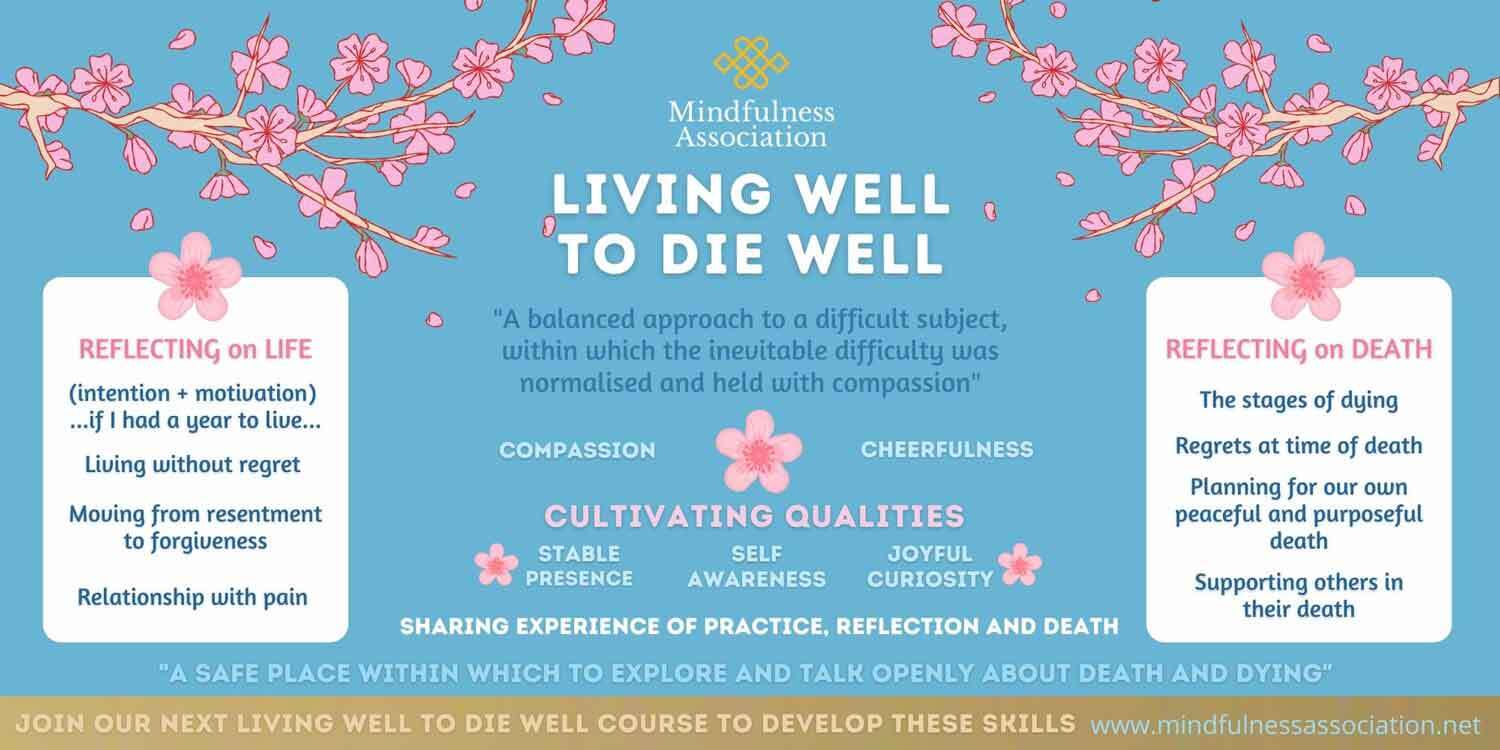 The main themes of the living well to die well are:
• Cultivating qualities of stable presence and self-awareness, joyful curiosity and cheerfulness and compassion;
• Reflecting on life, including our intention and motivation (if I had a year to live), living without regret, moving from resentment to forgiveness and relating to pain;
• Reflecting on death, including stages of death, regrets at time of death, planning for our own peaceful and purposeful death and supporting others in their death; and
• Sharing experience of practice, reflection and death.
The feedback from our first course has been very positive and suggests that participants have really valued a safe space within which to explore and talk openly about death and dying. They also valued a balanced approach to a difficult subject within which the inevitable difficulty was normalised and held with compassion.
Heather Regan-Addis
If this is something that is of interest to you, our next course takes place at Samye Ling or online on the weekend of 7-9 July, followed by six online evening sessions over the course of a year. You can find more information HERE.
There is a taster session which members can attend at our upcoming membership weekend, free to our members, on 10-12 March 2023. You can find more information HERE
*********************************************************************************************************************************************************************************************
• Heather will be teaching an eight week Mindfulness Based Health Living Course online on Tuesday evenings from 18th April – you can read more about that HERE.
• Heather also teaches on our Masters degree programs, please CLICK HERE for more information.