Two unique opportunities to study Mindfulness & Compassion at Post Graduate Level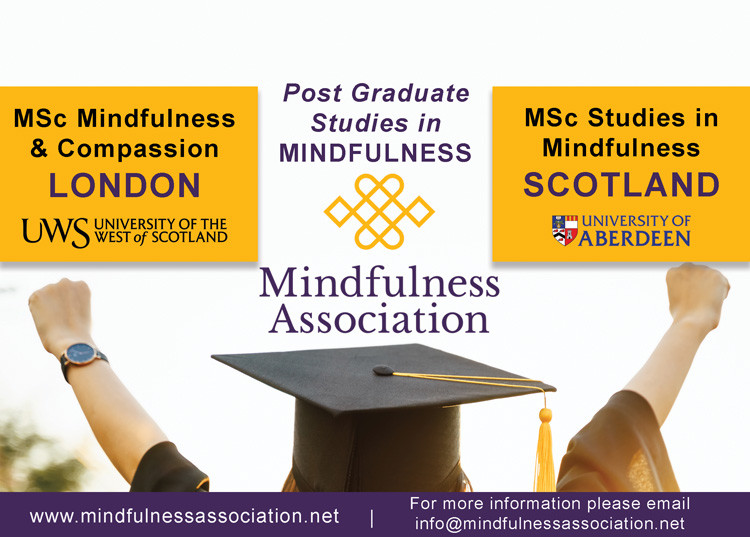 You might be thinking of a new career, or to deepen your own practice and understanding of Mindfulness and Compassion. Studying a Masters in Mindfulness is a perfect opportunity to make transformations in your own life and benefit others.
The MSc Studies in Mindfulness provides an in depth study of Mindfulness, Compassion and Insight as you establish your own practice and then apply this to research in your area of expertise.  This programme can be studied online or via weekend retreats at Samye Ling Retreat Centre in Scotland.
The MSc Mindfulness and Compassion provides an in depth study into the background and psychology of Mindfulness and Compassion and, as well as developing your own practice, you will train to teach our 8 week courses in Mindfulness and Compassion. This programme is studied at the London Campus of the University of West Scotland with retreats held at Samye Ling Retreat Centre in Scotland.
Both programmes run part time over 3 years and can be exited with a Post Graduate Certificate after one year, a Post Graduate Diploma after two years and a full MSc after three years.
Read more about these programmes by selecting the option you prefer.
MSc Mindfulness & Compassion
This is an exciting new partnership between the Mindfulness Association and the University of the West of Scotland, which will be taught at their London campus beginning in February, 2021. (The first module will be delivered online due to continuing Covid restrictions)
The Course Has Three Key Aims:
To Provide Students With The Psychological Context To Evaluate And Critically Reflect On Mindfulness

To Equip Students To Teach Mindfulness And Compassion

To Qualify Students To Register On The UK Listing Of Mindfulness Teachers
Whilst learning to research and teach mindfulness and compassion you will develop your understanding of the relationship between psychology, mindfulness and compassion and also develop and deepen your own practice, which can prove to be transformational and life changing.
Throughout the course you will develop evidence-based knowledge of psychological wellbeing, biological psychology and consciousness and the relationship of these concepts to mindfulness and compassion. You will frequently reflect on the links between these concepts and your own teaching and practice.
MSc Studies in Mindfulness
This post graduate course offers a very flexible approach to your studies. It is offered entirely online OR by attending weekend sessions at Samye Ling in Scotland.
The Post Graduate Studies in Mindfulness (MSc) is run as a unique partnership between the University of Aberdeen and The Mindfulness Association. This contemporary online and blended learning programme allows you to study part time over three years in a way which suits your lifestyle and circumstances. What sets this course apart from other Mindfulness Courses is that the teachings are based on neuroscience, psychology and Buddhism. The academic aspects are taught by the University of Aberdeen who have a long reputation of high-class academic studies and qualifications.
The key aims are:
develop a stable regular Mindfulness meditation practice

to study and critically research its history and cultural aspects and application within a selected professional or personal context

to understand the key components of teaching Mindfulness
The unique focus of this course is an embodied and compassionate approach to Mindfulness practice that is the basis for deepening insight, which enriches one's life and work.
Why do a Masters Degree in Mindfulness?