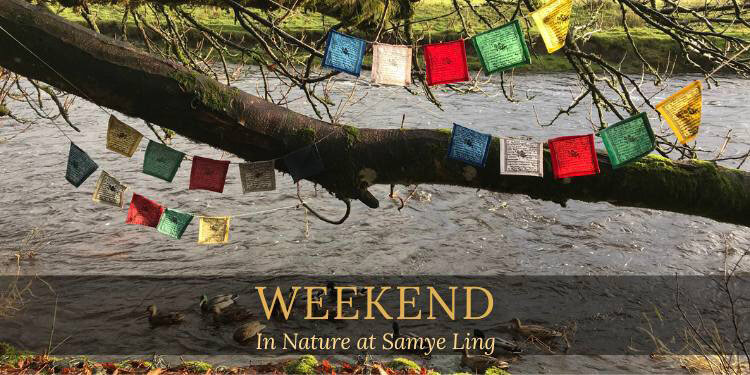 MINDFULNESS & MOVEMENT IN NATURE INTRODUCTION WEEKEND
19-21 April 2024
Please book your accommodation and meals for the weekend directly with Samye Ling by emailing bookings@samyeling.org. They will need to know the dates that you would like to stay, what room you would like (please click here to see the room types and prices), your name, and the name of the second person if you are booking a twin room, your address, phone number and preferred email address for the booking. No room bookings can currently be made via the Samye Ling website.
This is the introduction to our Level 1: Being Present Mindfulness Training taught over four weekends. It can be taken in isolation as a retreat or a refresher for those already with a Mindfulness practice or is a perfect way to begin a Mindfulness journey.  This weekend has a nature and movement theme – as we can immerse ourselves in the beautiful surroundings of Samye Ling. We will take opportunities to do some mindful walking, practices outside with Qigong and mindful nature practices with our guest nature expert.
This is an opportunity to not only explore the benefits of mindfulness but also of immersion in nature. We cannot help but notice how nature teaches us to be mindful.  After the first weekend you can choose to continue to complete the course over three further three weekends (24-26 May, 19-21 July and 13-15 September 2024) with Alan Hughes.
Tutor: Jacky Seery
Dates: 19-21 April 2024
Price: Weekend 1 = £165.00
Times: 19.00-20.30pm on Friday evening, 8.00am to 20.00pm on Saturday and 8.00am to 15.00pm on Sunday.
Booking: To book the first part of this course (£165.00) please click on the 'Book Here' button. You will be contacted after attending the first part to book the following three weekends (24-26 May, 19-21 July and 13-15 September 2024)., these can be paid for in six monthly instalments of £82.50.
Once booked and if you are staying at Samye Ling, please then contact bookings@samyeling.org to book your meals and accommodation.
If you are making up for missed weekends, please email info@mindfulnessassociation.net to sign up.