It falls to me each month to send out the membership packs to all of our wonderful members who upgrade to or renew their full membership. I love this job and settle down with some music on in the background to sign the letters, write and sign the certificates, stick on stamps and add the gifts. Helen does the hard work of writing the addresses on the envelopes – thanks Helen!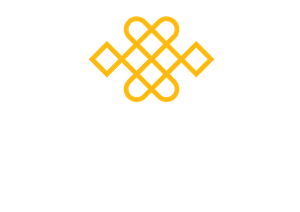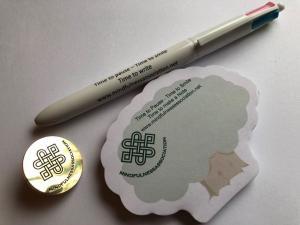 One of the things I like is that I get to choose and order the gifts and get to design the messages on the gifts. This means that each month a box of sample merchandise is delivered to me. We have received many mugs, water bottles, stress balls and always at least one pen over the years. My daughter especially likes to open the box to see what free stuff has been sent to us.
The current membership gifts are quite lovely and easy to post. A golden badge on which the phrase 'Mindfulness Association' looks like a smile. A four colour biro pen, pastel pink, green, turquoise and purple, saying 'Time to pause – Time to smile – Time to write'. A small pad of post it notes, on recycled paper, in the shape of a tree, on which it says 'Time to pause – Time to smile – Time to make a note'. I managed to resist 'Time to note….ice' – a pun too far!
I like seeing who our members are, what courses they have done, where they are located and feel are at the centre of our community of practice. I feel connected. Many are from Scotland, then the rest of the UK, then Europe and beyond. Today I have packs going off to The Netherlands, Italy, Switzerland and Argentina.
I know many of our members as I have taught them. I particularly know those who have done the MSc or who have trained to teach the MBLC and enjoy writing a short personal note and a smiley face on their letters. It makes me smile fondly to remember them. I feel even more connected. I love sending the gifts and my good wishes with them out in the post.
Also, I love it when I am teaching weekends and I see people writing with the pens we have sent out or writing in the notebooks from the conferences.
Jane and I have worked together to try and build our community of mindfulness practice and it feels to me now like a thriving community of mutual support and I am happy to make my contribution to it.
If you are already a member, I hope you love the gifts we send out.
If you are not a member, and if you practice mindfulness, why not join us?  Then, in 6 months or so I hope to be sending you a gift in the post!
Kind Wishes Heather
If you would like to experience the joy of giving, while helping to bring a mindfulness course to those who otherwise wouldn't be able to access one, then please visit our GoFundMe page: https://uk.gofundme.com/mindfulness-for-everyone