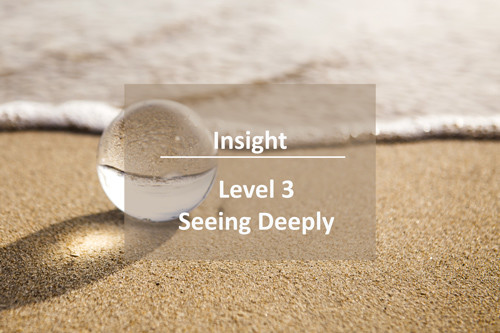 Insight Level 3
Tutors: Heather Regan-Addis 
Dates:
Module 1 – 28th June, 5th July, 12th July, 19th July, 26th July 2021
Module 2- 6th September, 13th September, 20th September, 27th September, 4th October 2021 
Module 3 – 1st November, 8th November, 15th November, 22nd November, 29th November 2021.
Booking info: Please contact info@mindfulnessassociation.net for the booking link
Times: Each session will take place on a Monday evening from 19.00pm-21.00pm
Location: Online
Cost: £ 450.00 in total for the three modules including manuals payable in three monthly instalments of £150.00
Our Seeing Deeply Insight Level 3 course aims to enable participants to develop their mindfulness practice by developing insight into the mental processes that drive our thoughts, emotions and behaviour.
This Seeing Deeply course builds on the Level 1 and Level 2 trainings that preceded it. In the insight training we deepen our understanding of psychological mental processes by exploring the roots of our experience, and what drives us.
It is ideal for those who have completed the Level 2 mindfulness training and who wish to continue to develop their mindfulness practice.
It meets the annual continuing professional development (CPD) requirements of the UK Good Practice Guidelines (GPGs) for mindfulness teachers.