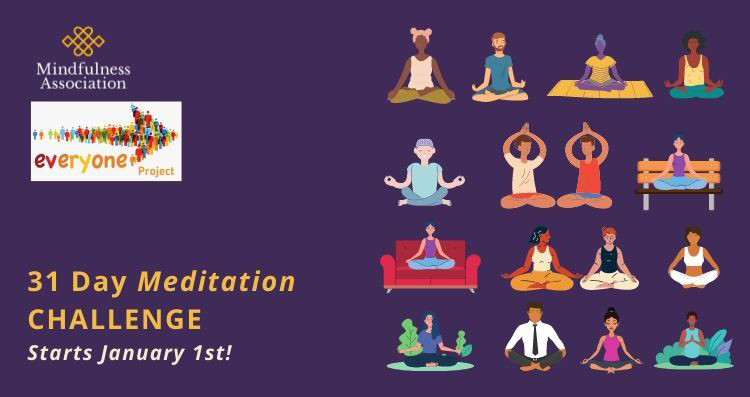 Mindfulness 31 Day Challenge
Are you up for a challenge?
The 31 Day Challenge is Back!
In January we are relaunching the 31 Challenge, that first ran in July 2021, for anyone who missed it or who would like to repeat the challenge.  Join us for 31 Days of Mindfulness Meditation Practice, throughout the month of January, guided by a team of tutors who have had experience delivering courses funded by The Everyone Project.
By joining the 31 Day Challenge, you will be contributing to the delivery of future courses and spreading the gift of mindfulness to everyone. All proceeds from the Challenge will be donated to the Every One Project for the continued delivery of courses.
The Everyone Project is committed to offering the eight week Mindfulness Based Living Course (MBLC) to people who are not otherwise able to access a mindfulness course. They do this because they are passionate about the power of Mindfulness to empower all in our society to flourish and achieve their true potential.
In order to achieve this they fund the work of mindfulness teachers, who work in partnership with charities or other community/voluntary' organisations to deliver the MBLC courses. Courses have been delivered to groups such as Carers, Refugees, Domestic abuse sufferers, Drug and alcohol rehab and Mental health (MIND).
What to Expect
Whenever you sign up for the challenge you will start on 1st January.  Each day throughout January you will receive an email containing a different 15 minute guided practice over five categories as you deepen into the practice.  It begins with Mindfulness, then takes you on a journey through Kindness, followed by practices in Gratitude and Appreciation. Practices in Compassion and Equanimity follow.
Your challenge is to complete each daily practice.
Sign up now and on 1st January 2022 you will receive your first challenge.
We look forward to hearing from you about your Mindfulness 31 Day Challenge.
Watch these inspiring videos from tutors who have changed lives with mindfulness