Are you looking to develop and deepen your skills at mindful inquiry, while creating the conditions for holding and facilitating safe sharing within groups?
Check out our CPD course that is taking place on March 23-25th/ 2018 at Samye Ling Tibetan Centre.
This course meets the requirements of the UK Network of Mindfulness- Based Teacher Training Organizations.
CPD Weekend – Inquiry Skills and Group Dynamics for Mindfulness Teachers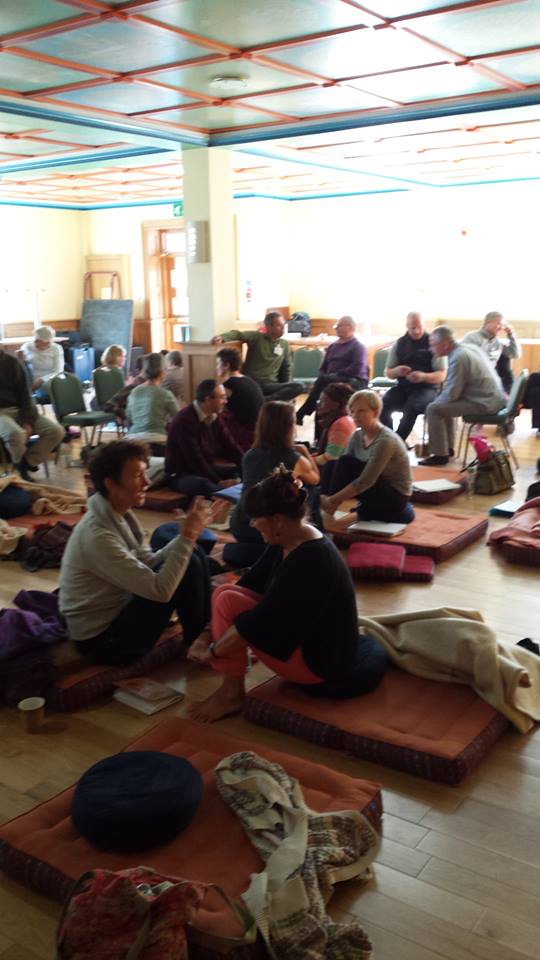 Join us for a weekend dedicated to developing skills in two areas – inquiry and group holding (Domains 5 and 6 of the MBITAC).
We'll be taking a practical, experiential, and at times, theoretical approach to deepening these skills, working in pairs and within small groups to cultivate confidence and dexterity in group facilitation and natural curiosity and ease in inquiry.
We intend to look together at how we can create a sense of safety in our groups. Flight/fight/freeze responses can take hold and play out in groups settings, limiting where the group can go. Establishing a basic felt-sense of safety together is a prerequisite for participants' receptivity to learning and practicing mindfulness. This also enables authentic communication which brings forth the powerful experience of common humanity.
We also hope to spend some time looking at how we 'view' our groups, experimenting with the idea that if we work with our view, we may find that fresh responses and a new openness can arise within us in the moment when we're facilitating. In this way we'll see that a lot of what happens is just what groups do and we'll begin to see the group more as a dynamic field, rather than simply as a collection of separate individuals.
We'll be surfacing the difficulties that we all fear in relation to holding a group and inquiry and will explore what works well and what does not in relation to specific situations that can arise. We'll be asking you to bring with you examples of situations you've experienced and we'll work with these as a group, using role-play to bring a sense of fun to the process.
As a foundation for all of the above we'll be spending time working with grounding and mindful movement, reminding ourselves that who we are and how we are is fundamental to how we facilitate.
When you book for this weekend you'll be sent the following two questions to help us prepare and co-create the weekend with you:
Do you have an example of a challenging situation that you've experienced or that you are afraid of experiencing when teaching mindfulness in a group?
What in particular will you like to have learned by the end of this CPD weekend
For more information and to book, please email info@mindfulnessassociation.net
Location: Samye Ling Tibetan Centre, Eskdalemuir (nr Lockerbie) Please click here to book your accommodation and meals
| | |
| --- | --- |
| Tutor: | Fay Adams and Annick Nevejan |
| Dates: | 23-25 March 2018 |
| | |
| Times: | The weekend begins at 7pm (evening meal at 6pm) on the Friday evening, between 8am and 8pm on Saturday and between 8am and 3.30pm on Sunday. |
| Cost: | £150.00 for the weekend |
To visit our website: please click here
To join our membership: please click here
Follow us on YouTube: please click here
Follow us on Facebook: please click here
Follow us on Instagram: please click here