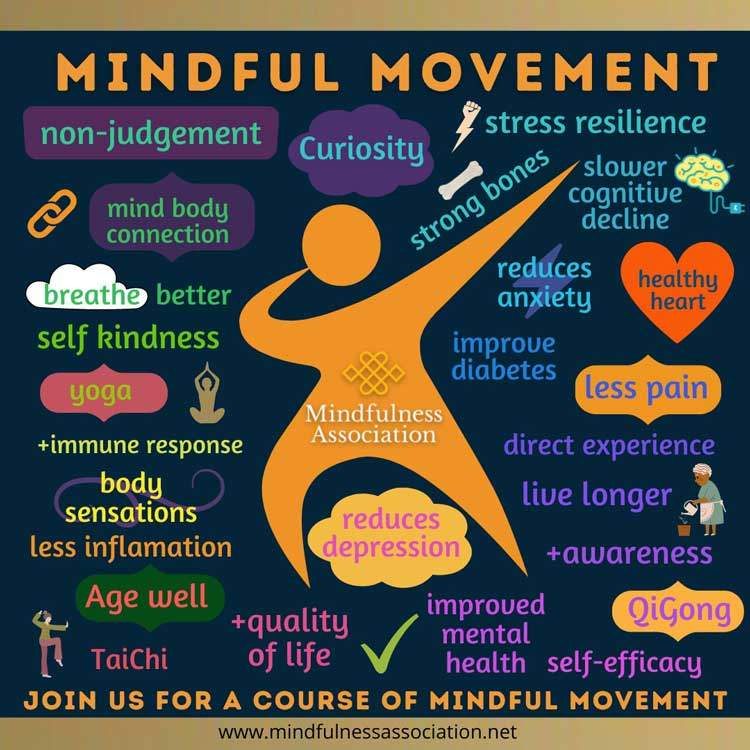 Mindfulness Through Movement Level 1
I can feel a real difference in the body from doing the movement
I loved the opportunity to practice movement mindfully and to be learning a style of movement that has been benefitting people's mental health for hundreds of years.
Tutor has gentle, all-embracing style which fosters learning and acceptance.
The course opened my eyes (and mind!) to ways of integrating movement with sitting practice, and how beneficial that could be, as well as exploring the body/mind connection
i enjoyed the opportunity to increase my body awareness through the practice of the body scan particularly as it seemed appropriate for being aware of the deep stabilising muscle of the spine both upper and lower.
I have been incapacitated because of pain created by 'broken' tendons for 2 years. I thought and still think that Qigong is helpful with this condition.
The movement enhances my mindfulness practice
It's great we are able to use Zoom to do all this and meet everyone, plus have the recordings which are invaluable
I loved being able to move softly and experience becoming softer each time, and not to just to think that once softness is achieved, there is no where else to go.
That's the beauty of it, listening intently to the body and seeing what it wants to do and how it wants to flow through the many layers of that softness. it feels very freeing.
Level 1 Mindfulness In Movement Course with Mindfulness, Qi Gong & Tai Chi
5 Weekly Evening Sessions 7pm – 9pm starting Tuesday 21st March- Tuesday 18th April 2023
With Jacky Seery
This 5 week course – Mindfulness In Movement is the first level of our 3 stage Mindful Movement training – Stillness Through Movement.  This first level will include gentle, easy to follow mindful movement – finding stillness through movement using Qi Gong and Tai Chi.  You will learn short, easy to follow movements and sequences as we go on a journey bringing mindfulness and compassion to every move.
The sessions will include sitting mindfulness practices as we transition from sitting to movement and back to sitting.  We will also practice a compassionate body scan and explore how to move our bodies with kindness.
In our Mindfulness Training – awareness of the body helps us to remain present and can reveal a multitude of emotions that we are experiencing or even hiding. This new awareness provides us with the opportunity to give some space and kindness to any pain or tight sensations we are experiencing.
The course will take place on Zoom over 5 Tuesday evening sessions from 7-9pm.
This course is for everyone – no prior experience required – so if you are a beginner or experienced practitioner, this course will hep you begin your mindfulness journey or bring a new element to your practice.
This course counts as Continued Professional Development (CPD) for Mindfulness teachers wishing to learn more about mindful movement in their practice and teaching.
For booking details please contact: info@mindfulnessassociation.net