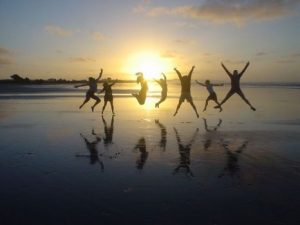 It is very exciting! Our Joyful Club membership weekend (6-8th July) and retreat (6-11th July) at Samye Ling Tibetan Centre is nearly here (For more details, click here).
At the Mindfulness Association our heartfelt motivation is to nurture a community of mindfulness practitioners so that we can come together and support each other in our ongoing practice, in a world where we often can feel that we are moving in the opposite direction to many of those we share our lives with. This can leave us with a feeling of isolation and of feeling the odd one out, but we hope that our membership can facilitate a vibrant community of like minded individuals practicing and connecting – online and in person – to make our lives more meaningful and our practice more sustainable.
Not a member? Then why not try it out for £10 for the first 6 months, with the option to leave at any time (For more details, click here )
Each year we aim to have a low cost membership event, such as a member weekend or a conference, for members to come together to connect, practice and to celebrate the benefits of mindfulness, compassion and insight practice.
Next year we are having a conference to celebrate the publication of our new book 'From Mindfulness to Insight', written by Rob Nairn, Choden and myself. Rob will be joining us for this conference and the date for your diary is 11-14 July 2019. Other speakers will be announced in due course, although Lama Yeshe Rinpoche and Charley Morley are already signed up. And there will of course be a book signing!
As part of these membership events we are also aiming to put on a low cost five day practice retreat for our members. In particular, this helps those who are trained to teach the eight- week Mindfulness Based Living Course to meet their requirement for an annual teacher led mindfulness retreat without too much expense, but all members are welcome to join the retreat.
This year our membership weekend and retreat is called the Joyful Club and this title is inspired by Lama Yeshe Rinpoche's talk from our last 'Compassion in Action' membership weekend in 2016 where he invited us all to join his Joyful Club (no subscription required!). Although, Lama Yeshe Rinpoche (one of our patrons) is unable to join us, we have a video of him answering questions about the subject of Joy and related topics, which we will show on the Saturday evening.
At the Compassion in Action membership weekend in 2016 we launched our Everyone Project and Vin, Chloe and I talked about our progress at last year's membership event, our Mindfulness in Society conference. This project has now delivered over 50 MBLC eight week courses to groups who otherwise would not be able to access such a course. Groups include, those who are unemployed or on a low wage or from deprived areas, carers, asylum seekers, elderly, those in rehab from addiction, and many others. So the wonderful news is that we have reached over 500 people with this work and the research results are very positive and general feedback is that the courses are empowering and transformative. I am so very grateful to be able to offer some help in this age of compassionless austerity. Please help us to progress this work – watch this blog for more details of how you can help.
We will update you on this work at the Joyful Club weekend as we have now set up a Scottish Charity, the Everyone Project and we will shortly be launching a crowd funding campaign. So we will have a session, for those who are interested, about this at the Joyful Club weekend to see how we can work together to fund raise to support this project and help more people to benefit from an eight week MBLC course. We have the potential to reach 1000s of people with this work and do some good in the world.
Choden and I will be leading the Joyful Club weekend and retreat and I am planning to do sessions on our Joyful Aspirations, Blocks to Joy and some Joyful movement. Rosina Morrison will be joining us for the weekend and is planning some mindful singing with sitting and reflection. I love singing and so I am very much looking forward to this. If you are horrified by the prospect of singing you have two options – feel the horror and do it anyway with kind curiosity or just listen!
Unfortunately, Jane is likely to be in Canada due to circumstances beyond her control, but we are hatching a plan for her to join us to deliver a session online on taking in the good.
On the other hand, we are fortunate that Vin and Ian will be on a writing retreat just up the road as part of the Mindful Heroes Book project. This book is edited by Graeme Nixon, Terry Barratt and Vin Harris and contains Chapters about the work of the students (or Mindful Heroes) in bringing Mindfulness to different professions as part of their MSc in mindfulness. Each Chapter is based around the Heroes Journey and Vin will be joining us on the weekend to talk about this. Ian is generously offering a session on attending to the space in our practice exploring the subtlety of the SGRS practice. The mindful heroes up the road have been invited to join us for the video of Lama Rinpoche's talk on Saturday evening.
So it looks like we have a wonderful and varied membership weekend in store, with teaching, practice and sharing, led by Choden, Rosina, Vin, Ian and myself. followed by three additional days of practice and reflection drawing on the themes from the weekend. Can't wait!
Hope you can join us!
Kind Wishes
Heather