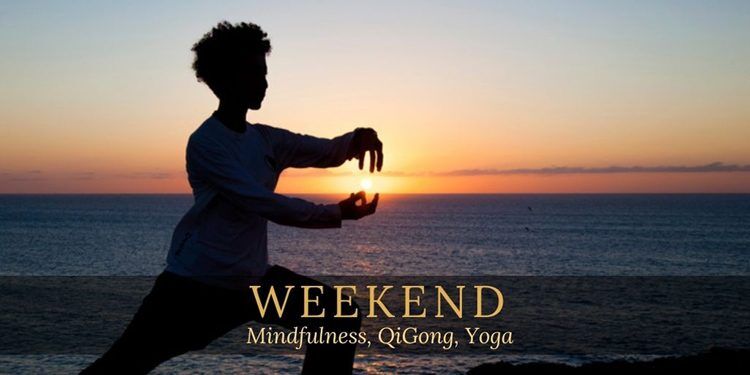 Mindfulness, Qigong & Yoga Retreat Weekend
How participants feel they have benefited from this course
The mixture of movement and sitting practices. The outside Qigong Session really helped me to feel connected to nature.
I would highly recommend this weekend to a friend. it felt very nourishing, relaxing and fun. A lovely opportunity to "fill up the cup"
Super timetable which flowed very well
I found the whole weekend beneficial and enjoyed the variety and the way it has been timetabled. I found the tai chi in particular stimulating and fresh,
Mindfulness, Yoga and Qigong all made for a wonderful escape from daily distractions in a beautiful location. The qigong outside was a truly unique experience.
Great for mental and physical health
This weekend has been amazing and one of the most beneficial relaxing weekends of mindfulness. The highlight was practicing outside in nature.
Mindfulness, Qigong & Yoga Retreat Weekend at Samye Ling or Online.
This weekend is now fully booked, to be added to the waiting list please contact info@mindfulnessassociation.net
As we get older many of us can get stuck in old habits, such as neglecting self-care, not getting enough good quality sleep and forgetting to move in ways that maintain our strength, balance and flexibility. Research evidence suggests that practicing mindfulness with yoga and qigong can help all these issues and increase our confidence, happiness and overall quality of life.
During this weekend you will learn some short, easy to do, gentle Chi Yoga and QiGong movements integrated with Mindfulness practice. You will be practicing along as part of a group of like minded people in a friendly and supportive atmosphere.
So if you feel stuck in your old habits why not do something different? Come and join us at the truly peaceful and beautiful retreat centre at Samye Ling in Dumfriesshire, Scotland or online via Zoom, for a weekend of movement, mindfulness and relaxation. This weekend is open to anyone who wishes to join.
Tutor: Jacky Seery and Karen Baird
Dates: 30 June -2 July 2023
Price: £165.00 including manual
Times: 19.00-20.30pm on the Friday evening (after soup at 18.00pm) in-between 8.00am and 20.00pm on the Saturday and in-between 8.00am and 15.00pm on Sunday.
Booking: To book this course please contact: info@mindfulnessassociation.net
Location: Online via Zoom or at Samye Ling
If attending in person please book your accommodation and meals for the weekend directly with Samye Ling by emailing bookings@samyeling.org. They will need to know the dates that you would like to stay, what room you would like (please click here to see the room types and prices), your name, and the name of the second person if you are booking a twin room, your address, phone number and preferred email address for the booking. No room bookings can currently be made via the Samye Ling website.
Meet Jacky and find out more in video below.